APRIL 2014


No Dumb Puppies Here April 26 2014

After several days of various amounts of rain, from drizzle to downpour, and very overcast skies in between, all of which kept the temperature in the pleasant high 60s to low 70s, today is full sun and HEAT. Even though I live in the woods, the deck is open and exposed and when it gets above 75 degrees and it was right at 80 at noon, it seems much hotter out there. Which is why, when I opened the door, the pups lined up, considered their options and stayed inside. Three of them are asleep... not playing, mind you, but ASLEEP... in the pen (with the gate wide open) and the other two are in the next room, snoozing with Boon and Clooney. Which means, when I let them out this evening, they'll be tearing around like they're practicing for the Food City 300 (NASCAR race.)

Color changes
are not confined to Whoodles and other Wheaten Terrier derivatives. To refresh your memory, this is Emy and the Nine when they were a day old



and here are two of them at 13 weeks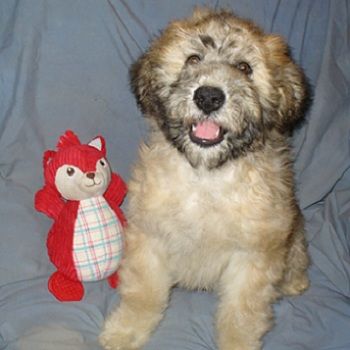 <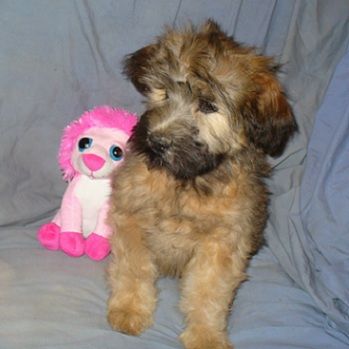 (The one on the right is one of the "black" pups.)

And THIS is a well known Thoroughbred race horse, Creative Cause, at the very beginning of his racing career, when he was a coming two year old, and as an adult stallion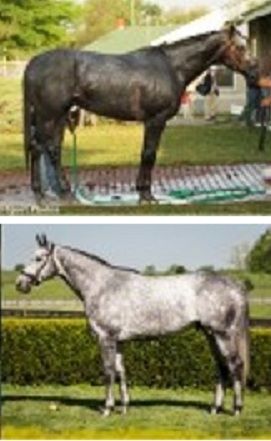 A request concerning "address books." Lately, not a day goes by when I do not get a half dozen or more emails from hacked accounts... from people I have placed pups with. Most of you are probably unaware that your name and email address are being used. Ordinarily, I open mail from people whose names I recognise BUT my email program is set up to show the first two lines of every new email... so I see immediately that it is NOT from someone a know but is a link to some place. Probably some place that is a virus factory.

So my request is to remove me from your address book. I don't keep one, at least not one that is connected to my email account, and I manage to keep up with all of you.

Thanks.


---

Pix Update April 24 2014

Ok, so I hated those pictures so much, I did more today. This is the first shot of Lovebug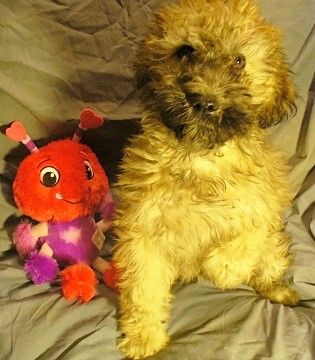 And this is Lovebug 12 hours later, all dried out, on the same background.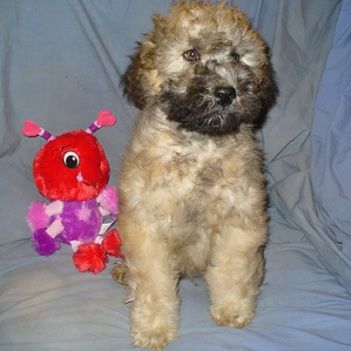 And guess what, it's a lot easier to shoot five than nine in a reasonable amount of time. Plus, they had been out playing for about 2 hours and were tired enough to just sit there and wait for the flash... which I got to work again.

---

Pix April 24 2014

There are new pictures of the five pups still here on the website (on their puppy pages.) Sorry, but they are not the best color... for instance, the background is a medium blue in real life. Not in the photos. The pups look very very blond. Again, not in real life. On the positive side, they do like playing in the rain!

Weights
I'm adjusting the weight of the four pups who left already by adding a pound to reflect the week they have been gone. From smallest to largest
Elephant (female) - 11 pounds
Frog - 11 pounds 2 ounces
Lion - 12 pounds 8 ounces
Lovebug - 13 pounds 8 ounces
Skunk - 14 pounds 8 ounces
Squirrel - 15 pounds
Bunny (female) - 15 pounds 3 ounces
Critter - 16 pounds
Raccoon - 16 pounds eight ounces
The nine have stayed within the same groups of 3 they started with... which, in my experience is unusual.


---

Happy Birthday Emy/Boon 4/22/12 April 22, 2014

Don't get me wrong... I do NOT remember all these birthdays. Luckily, people often email me photos that serve as reminders that puppies are getting older. Some are getting old. But not this guy... this is Cash who lives in California and turned two yesterday. The rest of the liitter did as well.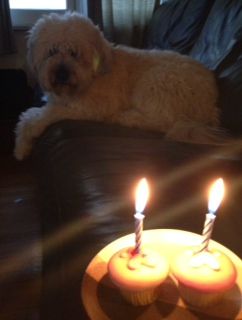 ---

Quiet Around Here April 22, 2014

One way to tell a new breeder from one who has been doing it for years is to ask what size the ideal litter is. A new breeder LOVES those big litters... 10-12 is terrific! Now that I'm down to the number of pups I was expecting in the first place, I remember why fewer is better. Come round up time every night, five pups get penned a lot faster than nine, even if the five are hiding out. And in the morning, when they've already been awake for hours and I have not and they want my attention, it is a lot easier to ignore the howls of five than of nine... or even six! (Those of you who now have one, just multiply and you'll see what I mean... especially if you're finding just one a bit disturbing.) Plus, it takes far less time to hold and rub the bellies of five. And don't get me started on newspapers....

The fourth pup to leave was Frog, who moved out on Sunday. He is now Sammy and these are his grooming photo and a shot of him with his new kids.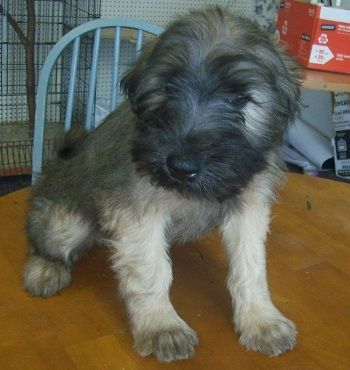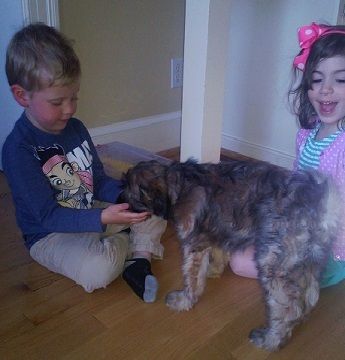 Oh, some of you may have noticed
the puppy pages have been rearranged. The four who are still looking for love are grouped together... Critter and Lovebug, Raccoon and Squirrel... while those who have been successful are together... Frog and Lion, the girls (as before) and Skunk by himself.


---

Moving Along April 21, 2014

So far, so good. The four rehomed pups all seem to be doing well in their new homes.

This is Goldie who used to be known as Elephant, at the groomer's on the 18th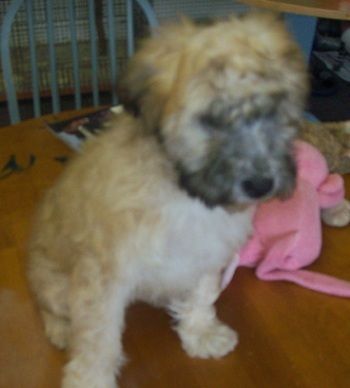 Easy to see where she gets her name!

More 14Z
Zenyatta's little girl is so gorgeous I have to share more pix of her. The first is 14Z meeting her human mom and the second outside about 12 hours later.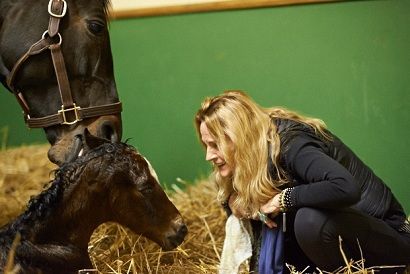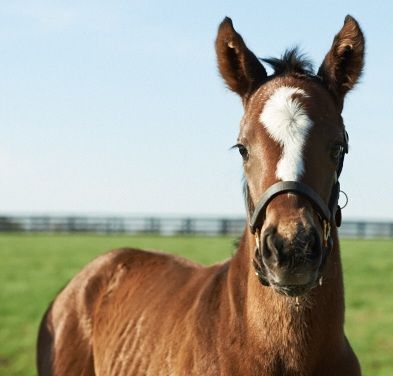 By the way, her "name" is the way Thoroughbred foals are identified... 14 for 2014 and Z for her mom. There is a small engraved plate on her halter. Zenyatta's halter has her name engraved on it as well.


---

Four and Counting April 20, 2014

Today's pup left bright and early this morning and I breathed a sigh of relief. Busy, busy week over and done with and we all made it through!

Yesterday it was Goldie, nee Elephant, and today Froggie (possibly Sammy now) going to the same general area... one north and the other south of DC.

These shots are of Gunny (previously Bunny) after her beautification and in her new home.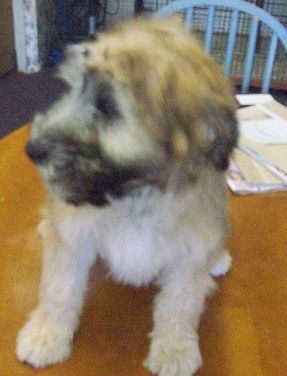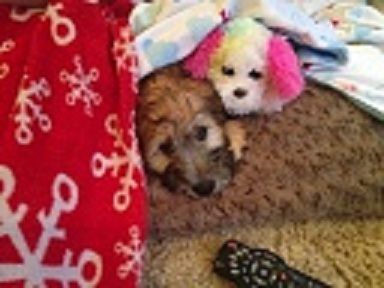 Meanwhile, back on track
Well, not on the track, but in the foaling barn, the Queen, Zenyatta, has given us a FILLY. After two males, the new baby, sired by War Front, was born early this morning. Mom and daughter doing well.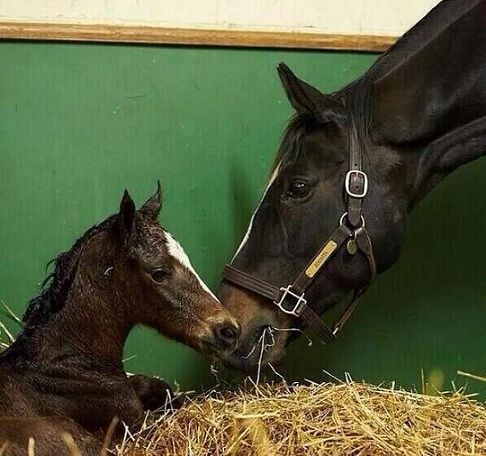 ---

Three Gone April 19, 2014

One more going to leave tomorrow which means I have just five still at home. It's starting to look rather strange around here.

The first two are in their homes, the third was picked up this morning and right this moment, the fourth is at the groomer getting a bath. The other five are sleeping... it's earlier than we usually get up and they don't seem to care that parts of the household are awake.

This is Bo (previously Skunk) at the groomer and then in his new home.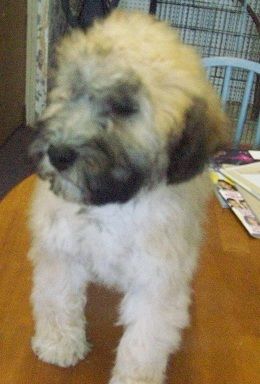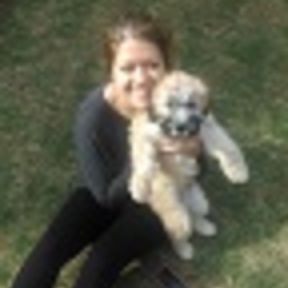 ---

One Down and Big News April 17, 2014

The first pup, Bo (nee Skunk,) has moved out of Tennessee and moved into his new home. According to his new dad, he had a wonderful, problem free drive to the Atlanta area and ate a good dinner when he got there. (That is terrific news since pups tend to not eat at first.)

Three more pups are being unleashed on the world in the next three days.

And the BIG news
Frog is no longer the smallest pup in the litter!He weighed 10 pounds 3 ounces at the vet's today and his now little sister, Elephant, weighed in at an even 10 pounds. Both have more than doubled their weight in the last 4 weeks. Bo was 13 pounds 5 ounces and Bunny 14# 3 yesterday, both just shy of doubling. This speeded up growth rate is one of the main reasons to get the pups off Royal Canin Puppy food.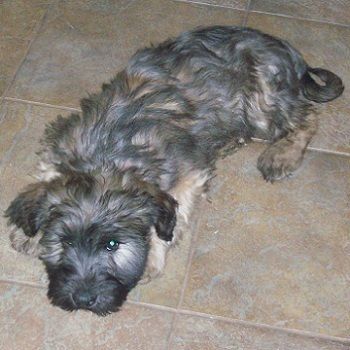 Froggie perfectly at home wherever.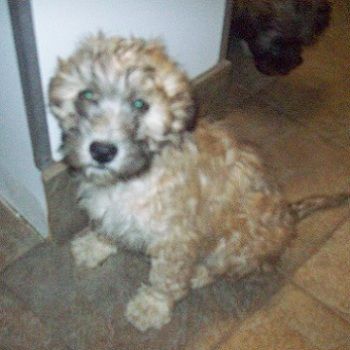 Elephant (Goldie) ready for her close up.


---

Busy Week April 15, 2014

My time is at a premium this week since four pups are going to their new families. Each one has to see the vet and the groomer and since they are leaving on four different days.... That means I have to cram all my other chores into yesterday and today. And, of course, we are expecting record low temps overnight tonight and snow... probably only at the higher elevations, but SNOW... after slow rain all day Monday and heavy downpours overnight and this morning. Today's high was 54... last night at midnight and it's been steadily downhill ever since.

Yesterday, because I was tired of listening to the Nine complaining about being stuck inside, I opened the door and let them out on the deck. It was drizzling and they LOVED it. After an hour or so, when they started getting tired, several of them lay down outside and the rest piled up in front of the door inside. I rounded them up and put them back in the pen where they slept for hours... they were dry when they woke up. Which is more than I can say for the newspapers.

One thing I've noticed, they like red toys. They have a bunch of small stuffed toys... which they have not destroyed (a first!)... and they routinely play with the two Santa Clauses while the other toys stay scattered around on the ground.


---

Pups Go Home With.... April 10, 2014

For those of you picking up pups, they will go home with a shot record detailing the two shots they've had and when the next one is due, all their wormings, dates of Frontline and Advantage treatments and the dates of prophylatic Albon treatment. They will have the vet's exam report and the registration form for their microchips. (Nobody is being shipped... so far... but if there was one, he would also have a state health certificate, rabies certificate and rabies tag.) A small bag of the food mixture they are eating rounds out their travel gear.

You should bring newspapers, paper towels and some water... in case of carsickness... as well as a blanket or towel to protect the seat. If you are going to be stopping for potty or food breaks for yourself and plan to leave the pup in the car alone, you should bring a crate to confine him in. The rest of the time, he should be on a lap or a seat where he can start to get a feel for your voice, scent and general outlook on life. None of these babies have been on a lead and considering there are nine of them running around faster than I, they won't be outside any further than the deck, so potty breaks with them can be a challenge. They WILL run away from you so if you plan to take them outside the car and put them down, they have to be on a tether and you will have to watch like a hawk to prevent them from getting away or choking themselves.

One word on the microchip... it has a number. That's all. Not your name and address. Not a gps. Just a number. You have to register the number using the form you'll get. It is a one time fee and any time your information changes, you have to update it. Right now, all the chips are registered to Revival Animal Health where I buy them. In the past, anyone finding a chipped dog has called Revival and they have called me BUT 3 of the 4 times, the dog did not come from me. Revival is trying to figure out why this occurs, but so far I don't think they've figured it out. SO you want to get the chip registered to you... except the form asks for color, weight and whether or not the animal has been neutered so you may want to wait a bit in order to give accurate info.


---

The Mundane April 9, 2014

This what things look like about 5 minutes after the Nine are locked up for the night.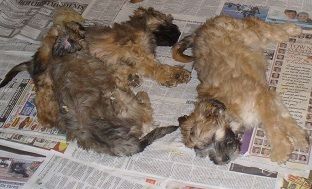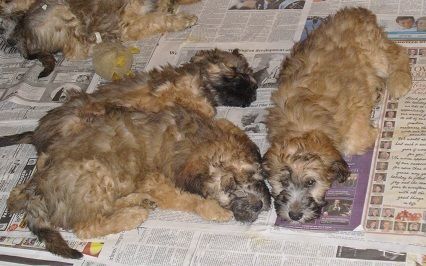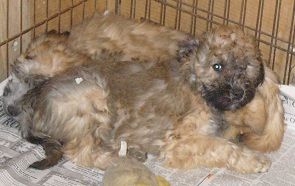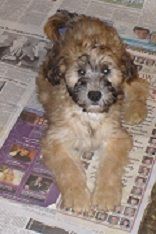 ---

Back On Track (pun intended) April 7, 2014

SO. New pictures are up on the website... the individual puppy pages. Things went sort of ok. The first couple pups I shot were a little sleepy and behaved fairly well. But the others got a second wind while waiting their turn and had to be spoken to sternly. Honestly, you'd think as often as they've had their pictures taken with their stuffed animals they'd be used to it. Huh!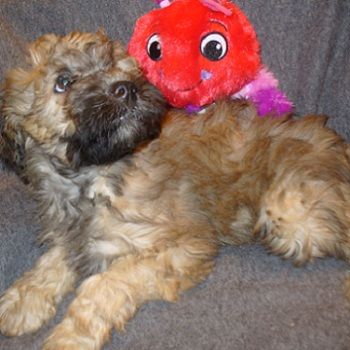 You may... or may not... notice the pups have physically grown out of the infant stage and now have their toddler look. Their legs are longer and their bodies leaner and they just don't have that fat little baby look any more.

Mentally, they're getting there as well. Most, not all, but most of them are pottying in the same area in the pen and more of them are coming back to the newspaper in the pen when they are running losse in the house and on the deck.

They grow up so fast!


---

On the Bandwagon April 6, 2014

Four weeks from today will be the day after the Kentucky Derby. The road to the 2014 Triple Crown will be over for all Thoroughbreds born before Jan 1 2011. For all except one, that is. This is a good year for TB three tear olds, fillies as well as colts, but it is looking like the Derby will be an all boy event again. My personal favorite for the Derby several months ago was a filly, Ria Antonia, but it is more likely she will compete in the Oaks. Another of my early "likes," a colt sired by Kitten's Joy and tongue-in-cheekly named Puppy Manners, will not have the points to qualify.

Then there is the "problem" of one of this year's top runners, Tapiture, who is trained by one of every year's top trainers, Steve Asmussen. Asmussen and a number of his employees, are the subject of a PETA expose` which is very damaging. Don't get me started on PETA, which the FBI considers, rightly, in my opinion, THE major terrorist organization in the US. I have long been aware of their activities at dog shows... like opening crates and letting dogs run loose as well as tossing drug-laced treats inside crates... and everybody knows about their throwing paint at people wearing leather or fur, etc. Their recent loss of a major suit brought against them by Ringling Bros made my heart glad. This horse racing video is edited, of course, to present everything in as negative a light as possible, BUT it does show some incredibly stupid, cruel and rule-breaking activities against the horses in their care by Asmussen's crew. So far, nothing legal has been pursued in the matter. His top assistant trainer has been fired and some owners have sent their horses to other barns. Tapiture's owner has not. The industry is unhappy, especially as this is not the first time this trainer has been accused of wrong doing when it comes to training and racing Thoroughbreds. Tapiture will probably have the points necessary to get one of the 20 Derby gate positions. The question is: should he be out because of his trainer... or because his owner is sticking with his trainer... or should none of the negativity be considered?

But there IS joy in Muddville!

And that joy is named California Chrome. Generally, California-BRED TBs are the stepchild of racing. (Part of the problem is the Jockey Club's antiquated rule against artificial insemenation which means California and western owned mares must be sent east to be bred to top studs and part of the problem is California owned racers generally do not go east to run since there are plenty of opportunities to compete close to home.) A Cal-bred has not won the Derby in over 50 years; the last was Decidedly in 1962. Before him was Swaps in 1955 but then you have to go all the way back to 1922 and Morvich. And that is it. Based on Saturday's Santa Anita Derby,his fourth straight win, California Chrome is most likely going to be the bettor's favorite come May 3rd, 2014. For the first time in his short career, the colt had a bad time in a race... he was slow out of the gate and got roughed up several times by the pack before making it clear and setting his sight on the leaders. Then his jock said "Go" and he went. He was visably eased the last part of the race when it was clear to everyone, and apparently to the colt who seemed to be looking around for something to race against, that nobody was going to catch him. He won at a gallop by over 5 lengths, went back to the barn and ate a big supper and got up this morning with a spark in his eyes and a bounce in his step. And he wasn't running against unrespected colts. Hopportunity (second) and Candy Ride (third) will probably be in Louisville. Chrome came to my attention a couple months ago when I saw a training picture of him... he is gorgeous, so well built for a three year old, and flashy. And most of all, he seems to be having a great time. His trainer, Art Sherman, has been around FOREVER... he was with Swaps way back when. He said last year he was thinking of retiring. Now look who came to his barn, ready to play.

Then there is my (current) second favorite, Social Inclusion, who flashed onto the scene 3 weeks ago with a 10 length victory over the favorite Honor Code (who finshed over 17 (!) lengths ahead of the third place horse and the rest of the field.) Social Inclusion finished third Saturday in the Wood Memorial, earning him 20 points which may not be enough for a Derby gate especially as there are several others with 20 points and they will be ranked in order of graded stakes winnings. The Wood is Social Inclusion's only stakes race. His people say they're going to Louisville and train for the Preakness, which was their plan for him all along... and if a Derby spot is available for the colt, they'll make the decision then. If it works out that his next race is the Preakness, the second of the three that make up the Triple Crown, I will be rooting for him to finish SECOND, right behind the Derby winner WHOEVER that is... and I hope it is California Chrome.

And now that I've got that off my chest... and the pups have worn themselves out running around the house for the last two hours... I'm going to take some pictures of them.


---

Apologies April 3, 2014

Unfortunately, for me, my back is "out." I have had deteriorating discs and resulting pain for many years and usually manage to keep it under control just by being careful. However, sometimes when I have puppies, I find a way to mess things up enough that just getting around becomes an issue. Like now. I mean, nine pups practically guaranteed I'd be down... and I don't mean that in a good way... before they all left for parts unknown. Luckily, things aren't as bad this time around as they have been in the past, BUT new pictures will have to wait until I can twist and turn without saying cuss words.

The pups are fine. They are spending a lot of time out on the deck... well, running in and out between the house and the deck. They are getting a lot of exercise which means they are sleeping a lot as well. When tired, MOST of them come into "their" room and crash by my feet... which is a problem since they don't want to move when I do. They've pretty much learned to go back in the pen when I say so, although a couple are always the laggers and I can see them trying to decide if defying me is going to work... ever. Emy is giving them a week or so of "see ya' later alligator" and hasn't gone into their room to see them since Monday. Until she decides they've gotten the message, Clooney has taken over the "adult female" role. She is a little rougher with them than their mom is and has made a couple cry. It is a lesson they needed to learn and I've noticed they are quicker to stop whatever behavior THEY are doing that makes a littermate cry. One thing they haven't completely figured out yet is the "this spot is for bathroom activities" concept. They have two-thirds of the computer room as their space now and are just beginning to put all most of the poop on the new side of the pen. I've seen one or two come in from running around and use the newspaper in the pen rather than just dropping their bum wherever the mood takes them, but it is rare enough that I notice it... which means they aren't quite there yet mentally. I still have to clean up after them.

Vet and groomer appointments are set up... just two weeks away.
Get as much rest now as you can!


---
MARCH 2014


The Deck and the Water Bowl March 27, 2014

Yeah, yeah, yeah... I know I promised pictures. However, we've been busy with new things.

The pups have discovered the water bowl. They found out it contains water. Water is great for things other than drinking. Like splashing in and getting the entire pen and all the blankets and newspaper soaking wet. So much for me thinking, a few nights ago, that none of the Nine was playing in the water bowl. Now it is empty all the time.

And after two days of snow and three of cold weather, it warmed up to the 60s today and I let the gang out on the deck for the first time. They all ran to the open door and stood there looking out. Until Emy hopped over them and went out to lie in the sun. Very tentatively... some more than others... they followed. Then they spent hours running in and out. After a few minutes, Emy got up and came in to nap on the fresh... dry... blanket. She was wearing a smirk. Late this afternoon, when I wanted to pen the pups up again, half ran into the other room and the other half headed out on the deck. What's interesting about that is I can go in and out of the room any number of times and they pretty much ignore me, but as soon as I decide to lock them up, they're gone.

Be prepared for mindreading puppies.


---

Mom's Night Out March 23, 2014

Apparently Emy is beginning to think her offspring are maturing quite nicely. Last night, when I was ready for bed, she asked to get out of the puppy pen where she usually sleeps surrounded by and covered with 8-1/2 weeks old pups. She didn't want to go outside, but followed me to the bedroom and scooted under the bed. Now, the bottom of my bed is maybe 8 inches off the ground, so how she fits under there I don't know, but she stayed there all night. The pups woke me up fairly early... for me... at about 9 with whines and minor howls... and a few yells... but Emy didn't come out from under the bed. An hour or so later, when a couple of the dogs asked to go outside, she went out with them and spent an hour trying to find some sunshine. Finally, everyone came back inside and Emy went into the room with the pups. They mobbed her... as they usually do, even when she's been gone just a few minutes... and she waddled her way to the far corner of the pen and is still there hours later.

Color changes
The pups are, obviously, lightening up. They are also starting to get a lot more hair. A day or so ago, I noticed one of the Nine looked "splotchy." My first reaction was concern... had I not seen the pup scratching? Chewing? Tearing its hair out? When I picked him up, he had all his hair. But it is long enough now to separate and lay over so the shaft of the hair is visible. It is much lighter... a true blond... underneath and gives the pup a spotted look. Yesterday I saw that at least half the Nine are doing the same thing. It is quite pretty... now that I know there is nothing wrong.

Clarification
I exaggerated a little about the diarrhea... it was really just loose, mushy stool. AND a common reaction to a change in diet... or water or environment or any of a myriad changes in a dog's life. There is corn and a number of other ingredients in Pedigree that are not in the Royal Canin puppy food or the Lamb-and-Rice and Chicken-and-Rice adult foods I feed.


---

Picking Done March 21, 2014
Picking went smoothly... as it usually does... and both girls and three of the boys have their assignments. That leaves four boys looking for homes... Critter, Lovebug, Raccoon and Squirrel. So far, the "haves" have not been lording over the "have nots."

I gave all the pups their first cases of diarrhea and maybe kennel cough. Loose stool is fairly common with pups transistioning from mama's milk to kibble and from puppy food to adult. Usually around 8 weeks, pups start getting interested in what the big dogs are eating. Because of the way the dogs are set up for the-winter-with-no-end, there are no bowls with adult food in the two rooms the pups are allowed loose in. But Emy still wants to spend most of the time in with her babies and she's put on some weight because she's eating their food which is higher in fat and protein and calories, so I filled up one of the puppy bowls with Pedigree. Em ignored it and stayed with the fatty stuff. The pups chowed down. And I'm having to change the newspapers three-four times a day. You have no idea how quickly nine pups can stink... and I mean STINK... up a room house! They'll be over it in another day or so.

And the kennel cough is because of dogs going to the groomer. I do not innoculate against Bordatella which is the fancy name for kennel cough. The vaccine prevents infection by maybe a dozen or two of the five or six dozen different viruses that cause it AND if you use the one doze nasal vaccine rather than the two doses injectible, you can infect the dogs you're giving it to. The stuff last week's groomed dogs brought home seems to last just a couple days, so we'll see how it goes. So far I've heard just one pup coughing, but they'll all pick it up, especially since the rest of the dogs still HAVE to be groomed. They look like yak! KC is really not a big deal... it's a lot like getting a cold. It sounds absolutely terrible, but it rarely makes an otherwise healthy dog "sick." If the coughing gets too bad, the pups (or adult dogs) can have some human cough syrup, but the only time I "treated" anybody was a few years back when I had a litter of week old pups coughing and hacking. Then, they got a drop or two twice a day because it was keeping them from nnursing and sleeping. Things settled down in a couple days and they all survived. If, down the road, you have a dog who sounds like he's trying to remove his lungs without the benefit of surgery but his eyes and nose are clear and non productive and he's eating and playing normally and his tail and ears are carried where they're supposed to be, it's not a vet emergency. Some viruses last longer than a couple days and become extremely annoying. But, as with any virus, antibiotics do nothing. If the vet offers them to you (for a fee, of course) it's to pacify YOU, not help the dog.


---

Eight Weeks March 19, 2014

FINALLY! What a long day! The pictures are up on the puppy pages. The weights are posted. The pups have had their first shot. Now, in an hour or two, I plan on tucking them into bed and moving myself into my own bed.

Elephant, the smaller of the two girls, is on hold for payment, which means there are a couple boys still looking for homes.

Weights
The smallest is still Frog, at an even 4 pounds and the largest is still Gunny (Bunny) at an even 8 pounds. Interestingly, the three smallest pups are still the three smallest and in the same order while the three largest are still the three largest, also in the same order. The three in the middle are sill the three in the middle but from smallest to largest they WERE Skunk, Lovebug and Squirrel and NOW are Lovebug, Squirrel and Skunk.

And that's it for today. And tomorrow. And maybe Friday.

Oh, we're expecting light snow with about an inch accumulation early next week.... Yea! Spring is here!


---

Horses March 17, 2014

If you've spent some time reading the blog you know I love my dog but I'm IN love with horses. All horses. This time of the year, my fascination is with Thoroughbreds, particularly the youngsters and most especially, those in contention for the Kentucky Derby and the Triple Crown.

There is a new movie coming out, 50 to 1, which is the story of Mine That Bird, the winner of the 2009 Derby. One of its stars is Calvin Borel who was his jockey.

Borel Impresses Hollywood Co-Stars in '50 to 1'
by Mary Rampellini

From the Daily Racing Form
Jockey Calvin Borel is now a card carrying member of the Screen Actors Guild.

The three-time Kentucky Derby-winning rider who was last year inducted into the National Horse Racing Hall of Fame will hit the big screen on Wednesday. Borel plays himself in the movie, 50 to 1, that chronicles the story of M ine That Bird. The premiere is Wednesday in Albuquerque NM with the film to open in the state on Friday the 21st.

Borel stars alongside Sketch Ulrich, who plays trainer Chip Woolley, and Christain Kane, who plays co-owner Mark Allen. Both actors said in recent interviews with The Daily Racing Form that Borel stole the movie that is being brought to the big screen by Jim Wilson, the Academy Award winning producer behind Dances with Wolves.

'Calvin's acting performance was brilliant,' Kane said. 'He's nothing but charisma. He walked into somebody else's playground and just nailed it.'

'He was like a matador in a bullring in Madrid, so confident yet so open,' Ulrich said. 'As an actor, I thought he did an incredible job.'

Borel, 47, guided Mine That Bird to a 50-1 upset in the 2009 Kentucky Derby for New Mexico-based owners Allen and Leonard Blach. Wilson said watching the rider in post-race interviews led him to eventually pursue Borel for the film. The movie, which has a tiered release, is currently scheduled to open in Louisiana and Texas on April 4, Arkansas and Oklahoma on April 11 and Kentucky and Tennessee on April 18.

'I first thought we would get an actor to play Calvin,' Wilson said. 'One, he's riding and two, it's such a big part. It's very difficult to play yourself, much more difficult than people think. But looking at footing of Calvin talking and doing press, I thought Calvin has to play Calvin.'

Borel agree to do the part after it was determined shooting would work around his riding schedule.

'I couldn't go if I had a big race so it took a little longer than it should have,' Borel said, noting Wilson's willingness to work around his schedule. 'It was an awesome experience.' It was pretty cool. I got to be myself. I didn't have to play another person, so it was more or less in the jocks' room, and riding in the race, and being on the backside before and after the scenes. I was in my home, my second home.'

'One thing about the movie, I think it's going to be real,' Borel said. 'If you know anything about horses, you're going to see a lot more of what really happens [behind the scene in racing.] Of course, I can't say what happens. But I think people will really like that.'

Borel will be in attendance for the premiere as will the retired Mine That Bird. It was the unforgettable performance the two gave in the 2009 Kentucky Derby that caught the attention of Wilson and led to the making of 50 to 1.

'It was an amazing race,' Borel said. I was last the whole way, and that was our plan, to be back there. Not that far back, but back. When I turned for home I kind of squeezed on him a little bit. And really I had a wall of horses, and so much horse under me. It was really just: Calvin find your spot and go ahead, do your job and that's all I did. The rail opened up - not wide, a very small hole - and I pointed him to it and he went on and got the job done.'

'He wasn't a fluke.'


One thing the DRF story... and probably the movie... doesn't get into is the day before the Kentucky Derby, Calvin was on board the superfilly... and eventual 2009 Horse of the Year... Rachel Alexandra when she ran away with the Kentucky Oaks. He had a special connection with Rachel so, when he had to choose between riding her and riding Bird in the Preakness two weeks later, he shocked a lot of people by picking the filly over the colt. Rachel finished first, the first time in 85 years a filly had won the Preakness. Mine That Bird was second. Calvin was up on Rachel for the rest of her races, some of them against the boys, among them the Haskell and the Woodward Stakes which she won. Rachel was retired from racing in 2010 and bred for the first time in 2011 (to Curlin who was Horse of the year in 2007 and 2008 and who also won the Preakness. Their foal, a colt named Jess' Dream, is the first foal ever from two Preakness winners and one of only a few from two Horse of the Year winners.)

This photo is of Calvin and Rachel, the first time they were together after her retirement and the birth of her first foal.


Rachel had a filly in 2013, but because of complications, the foal was raised by a nurse mare and Rachel Alexandra most likely will not be bred again.


---

Cold, Rainy Day March 16, 2014

Add in my problem adjusting to daylight savings time and you've got the reason(s) I'm so late getting these pictures posted.

MOST of the pups continue to cooperate, some are no longer amused by my attempts to get them to look at the camera and one or two who shall remain nameless make me take a half dozen shots. Thank goodness this every-few-days photography business will be over soon (except for the pups who don't get picked next week) and we'll be back to every ten days or so.

You can tell by looking at a pup's size vs the toy's size how much they've grown in the last two weeks. The babies, not the stuffed animals.

The puppy pictures are on their pages on the website, but here are a few relatives to look at while you're here.


Piper, an 18 months old Emy/Sparky pup



Scout, Clooney and Boon's daughter


---

Comparison Pix Revisited March 14, 2014

Here are two pictures taken with two camera. They are of Bunny and Frog and are for color and size comparison. Bunny currently weighs 7 pounds (up from 4-1/2 eleven days ago) and Froggie is 3-1/4 (1-3/4 eleven days ago.) Frog is the darkest pup in the litter and Bunny among the lightest.

---

7 Weeks March 13, 2014

I spent all day taking pictures... actually, I didn't. The picture TAKING went rather quickly. Each of the pups sat there and looked in the general direction of the camera and let me take basically the same shot with two different cameras. I think just two or three of them required more than two snaps. Which is amazing considering, at this age, usually, the pups can't wait to get down and run away. Maybe it's the fact I put them up higher, on a narrower perch, and they're not as sure they'd survive the jump to freedom. But I digress. What took so long was trying to edit them. Which took two different computers. And no, smarty pants, it wasn't one for each camera. Eventually, I am sure, I'll get back to being able to do everything from the same computer. Probably when I go back to a MAC. Anyway, the pictures are on the puppy pages and you'll be able to tell which ones came from which camera. I think the flash maybe brighter on one 'cause I can't think of any other reason for the difference. And once again, the color on the camera I usually use has more red in it... but it might be because the flash is brighter. I give up.

Here are some shots of the pups with toys... there are two different toys.
Only one camera.

---

I've Created Monsters March 10, 2014

Some growth accomplishments, mental or physical, are great and make things a lot easier for ME and/or the pups' mama. Others, not so much. For instance, on the plus side, are things like the pups eating kibble. My babies always seem to do it much younger than the commonly accepted age. I remember when I was raising Shar-Pei (and other breeds much more recently that that,) the accepted age to START weaning pups was 3 weeks and their introduction to food that came from outside mom was a runny pablum which, over the course of the first week, was thickened to a pasty substance. The entire litter would be coated in the stuff and require a bath... or at least a thorough wiping down... after every meal. Kibble was added very gradually. By 5-6 weeks pups were considered weaned and mom was taken away. Permanently. When I started doing bigger breeds... the 'Doodles... I had to put mom's food IN the nest since the inflatable swimming pools I use take up all but the corners of a 4 x 4' exercise pen and I noticed at about the same age, 3 weeks, pups started getting interested in what was in mom's food bowl. Since my pregnant and nursing gals are always on "puppy" food, babies don't have much trouble sucking the individual pieces into soggy bits that they can swallow and their attempts at chewing seem to help with teething. (Knock on wood, I've never had a young puppy choke on a piece of kibble. Fingers crossed.) MY moms are still a huge part of their pups' lives when they leave here at 12 weeks. I don't have girls who want to go away and never come back to their litters. Maybe teething on kibble keeps the youngsters from using mom for that purpose. And as an addendum to the food IN the nest observation, when I was raising Bulldogs, who are notorious for lying down on and smothering their offspring, I noticed the extra room in the nest (which is more than the mom's size would seem to require) cut way down on puppy deaths-by-mom. A Bullie mother would come back into the nest and lie down AWAY from her sleeping brood and then nose them awake. ALL my dogs, regardless of genetic make-up, do this when they have enough room. Back to knocking on wood, I seldom have a pup die because its mom slept on it.

Then there is the down side of puppies growing up. Like I have to start cleaning up after them. (This is on the moms' plus side.) And the most recent downer is noisy babies once they have been allowed out of the pen... no matter how large it is... and begin to explore. The Nine let me know every time they wake up, even when Em is in with them, they are behind bars and there are worlds to conquer on the other side.

Today the gang got on my nerves by trying to catch newspaper in the air as I am trying to put it down on their floor. ALL pups do this and it bugs me every litter. If I suceed in getting it where I want, they promptly grab an edge and move it or come running from the other side of the pen and slide the paper to a different location. If they are out running around and hear the russle of newspaper, they come tearing into the room so they can play on it. Ummm, maybe instead of chasing from room to room, trying to round them up when I want them back in the pen, I should just shake some paper... the trick is to be smarter than the dog!

One other plus to the babies maturing... they are becoming more aware of me as an asset. A number of them have discovered I rub bellies and give body massages and are starting to come to me for a little bonding with humans time.


---

So I Lied March 8, 2014

Yesterday got away from me. Before I knew it, it was primetime tv time and I still hadn't taken puppy pictures. Remedied that this afternoon and a new shot of each pup is on the puppy pages. Plus this one


One thing, without a real photo editing program, I can't adjust color so there is more red, for some reason, in the new photos... but if you take into consideration there wasn't quite enough in the last ones, you get a good idea of the pups' actual... current... shades.
Now I'm a day behind in enlarging the puppy pen. Not that they mind a whole lot. I've been letting them wander around several rooms while Emy is outside with Clooney and Boon. Right now, they are too small to get into much trouble and the dogs on the other side of the hallway off the kitchen make them stop before they get too far. Like most pups, they are interested in my shoelaces and pantlegs and they discovered a cardboard box small enough for them to try getting on top. No one had success today.... Emy has been going out in the late morning and staying away until late afternoon. They cried a lot the first day but have already shrugged it off. Of course, they mob her when she goes back in the pen... like they haven't sharked through two bowls of food in her absence.


---

Sort of Back on Track March 6, 2014

It was a long almost 2 weeks without a computer. Fits right in with the rest of winter. Thanks to everyone who emailed and called to check on me. I appeciate the concern.

I'm working with a new used computer that still hasn't all the updates, downloads and add-ons I need, but since I'm on dial-up, those will have to wait until I can get access to wifi some place besides McDonald's. (Our local Mickey House has very bad wifi for some reason.) In the meantime, I'm having to upload photos to photobucket.com and link to them. It works ok, but is very time consuming. But what else do I have to do?

The pups have continued to do well, even without internet access. It's hard to remember them as the little slugs they were just a few weeks ago. They took their microchipping very well. Their "nest" has now been expanded to the whole newborn/toddler puppy pen which is 20 square feet. This weekend I plan to move them to the full pen in the tv/computer room which will add 35 square feet more. Everything is covered with newspaper and the pups are generally "going" in two specific areas. Em is still following behind and cleaning up most of it, but since a couple of the pups seem to prefer eating HER dogfood rather than the puppy kibble, that may stop soon. And once in the bigger pen, they will soon pick a bathroom spot which will make it easier for me. The Nine basically do everything as a group... they all sleep at the same time, although now they are inclined to sleep in a couple piles around the pen rather than all in one big clump and some are starting to sprawl out alone, especially in the afternoon. They are very much aware of sounds and are attaching meanings to things like me opening the gate or coming into the room or refilling the food and water bowls. They also bark whenever the big dogs sound off... or when I make weird noises like chirping... and spend a lot of time arguing with each other. Whenever they get too boistrous, and every time one of them starts yelping in pain because someone else is chewing on it, Emy stops it. She's the only one of my mamas who pays attention to her pups' rough housing. It saves me from having to correct the situation and I think it carries more weight with the kids. They always look at me, when I interfere, like I'm the old fogey or the gestapo and tend to go back to heavy duty wrestling almost immediately which they don't do when Em stops them.

I'm going to take the next round of pictures this afternoon or tomorrow morning and will get them edited and posted as soon as I can. In case you missed the announcement yesterday, there are individual pix of each pup on the website. They are on separate pages... two pups per page (right now) and you can get to them by clicking on the small pix of each pup on the main page and by clicking the links on each of the puppy pages. OR you can click these links:
the girls, Bunny and Elephant
the males starting with Critter and Frog
Lion and Lovebug
Raccoon and Skunk
and Squirrel.
As a reminder, each pup's "name" is the stuffed animal in the photos with it.
Each pup's weight at 5-1/2 weeks is posted on its page. They range from Gunny (Bunny) and Raccoon at 4.5 pounds down to Frog at 1.75. The other two little ones are Elephant at 2 pounds and Lion, 2.5. The four other males are between 3 and 3.5 pounds.


---