JUNE 2014


Wait for it June 27, 2014

My "new" laptop gets here Monday or Tuesday... until then, it's cut and paste. lt keeps me off the streets.


---

Bad pc June 23, 2014

Sorry, but I have a bad pc. I'm working on it. CaII me at 423-276-258O.
Sherry


---

Email, I get Email June 19, 2014

Before you ask, it is still hot. We've had something like 5 or 6 days at 90 or above. And yes, I have the air conditioning on. The vents are closed except in the bedroom, but it has made my afternoon naps and night time sleep sessions very bearable.

And today we got some rain... a lot of rain, actually. Accompanied by a good deal of thunder and up close and personal lightning, giving the dogs had something else to bark about.

Now, the email... and the phone calls... these things seem to go in spurts. A week of no one asking about the puppies followed by two weeks of everyone finding me on the internet. I figure I deal with a dozen to two dozen different families for every pup that leaves here. Squirrel and Lovebug are probably going to demolish that record. Right now... as in today... I had three brand new inquiries (one by phone, two by email) and had follow up email to take care of for another four people. It's a good thing I don't have to work any more since there is little time left for it!

I called the vet to get an appointment and the soonest I can get in is July 2nd. That's one day shy of two weeks from today. At least, I'm not the only one who is busy!

Speaking of busy
this evening is the first time in a week that Hoo-Rah and Peri are NOT busy. She's lying down at my feet. And he's lying down at hers. While I had the vet's office on the phone, I scheduled Peri's ultrasound. D-Day is July 18th.

And someone else who is not busy
is California Chrome. There was... finally... an update on the Daily Racing Form website. He's just arrived at Harris Farms, right off I-5 in California, where he is going to spend the next month and a half living like a regular horse. He's been in training and/or racing for the last 15 months and over the next couple days will be reintroduced to hanging around the barn and wandering the paddock with no trips to the track and no one on his back. Wonder how he's going to like that....


---

Hot Hot Hot! June 16, 2014

This weekend was so hot.... (How hot was it?!) At 7:30 last night, coming through town, the bank temperature sign... which was heavily shaded... said 93. There was a good breeze... I had the car windows down... so it didn't feel too bad. But the house was really stuffy, even late night with the doors open so the pups could go in and out. They were camped out in front of the door, sprawled on their bellies, froggy style (hind legs out straight behind them.) Panting. So I wasn't the only one uncool. Hate to say it, but I'm going to have to turn on the a.c. I hate that because then I have to close windows and doors. Everything's a write off.

Unfortunately, it is so hot Hoo and Peri are doing more mooning at each other than actively courting. Not a good thing. It only takes one tie... which we've had... but....

Want to see how smart these Whoodles are? Here is a series of photos of Emy/Boon's 4-1/2 months old daughter, Gunny, who knows what the sound of popcorn popping means.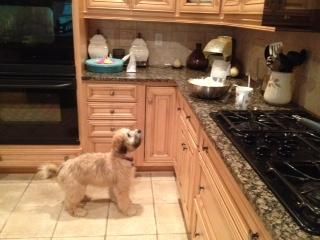 After a while, the bowl fills to overflowing...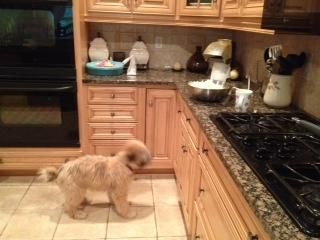 then the bounty makes it to the floor!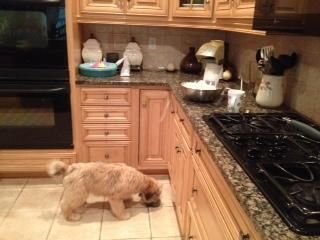 ---

The Russians are Coming, The Russiams are Coming!
June 15, 2014

Hindsight! I should have paid attention back when the dogs tried to tell me we were being invaded. We're a week or so into this gas company/pipeline business and our lives have been turned upsidedown. At my age, that is not a pleasant position.

They have been moving big equipment up the trail... they sure need a lot of the stuff! The hill gets so steep as you go high, they are pulling their trailers off the blacktop and unloading right away. Then they drive these big... SLOW... NOISY machines up. They are on tracks or whatever those things tanks drive on are called and the metal is wearing deep grooves in the road. Now, it feels like a washboard when I comeoff my drive and make it down to the county road. It was a slow trip before, what with all the ruts and holes, but now it is slow and dangerous. Particularly since we had a lot of rain last week and mud is slick. I'm glad I don't live higher up the hill.

Unfortunately, especially from the dogs' point of view, all the traffic coming down gets to the more level area right at the bottom of my driveway and stops to take a deep breath. Why they have to stop there before going UP is a mystery to me. But either way, the dogs are getting hoarse warning them not to come any closer.

I hope one of my neighbors was smarter than I and either got a time limit/completion date in writing or asked for monetary compensation. Or both.


---

Shucks June 12, 2014

First item: a big HAPPY 10th BIRTHDAY to Cooper!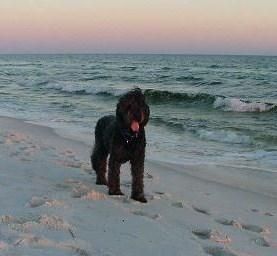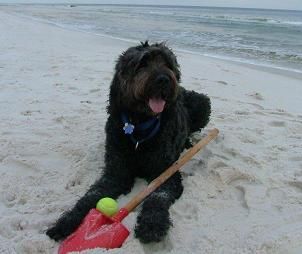 Seems like just a couple months ago...! Cooper's family reports he is happy and healthy and acts like a pup (since his knee surgery last year.)

Second item: long story. About a year ago, the dogs alerted me to an invasion of our homestead by aliens. Turned out to be a guy driving a pick up with some gas company logo and a photo i.d. from the same company. He wanted to know if I would grant the company my permission to use the "road" to get up to the top of the ridge to work on the gas line that was going across it. He promised they'd put the road back in its current condition when they finished. THAT was almost a deal breaker... I mean, if they weren't going to improve it and make it marginally passable, what was the point? Anyway, I signed on the dotted line and apparently so did all the other property owners, several of whom don't live here any more, because for the last week or so, there have been all kinds of surveyors and strange trucks clogging our little mud track and today, a couple guys in a strange truck putting up very high poles and stringing colored flags across it between poles. On the poles are signs warning of "overhead power lines" and at the intersection with the blacktop, on the blacktop side, there is an official county sign designating our trail as an "official access road." PLUS the grass along the blacktop on either side of the turn off and all along our road has been mowed down VERY short. It looks like we're planning some big festival out here... as if... and the folks who live up and down the blacktop keep looking in this direction with concerned and unhappy faces. Which pretty much match the concerned and unhappy faces WE who live here are wearing. Don't know what I was expecting. Right after the gas company guy was here with his paperwork, the guy who owns all the property at the top of the road... and the whole top of the ridge probably... had loggers up there taking down a lot of the trees. They were using some big equipment and making a lot of noise from 7 AM to about 7PM and log trucks were up and down several times a day every day, but they really didn't get in the way a lot. I guess I was thinking THAT is the way the gas company was going to do it too. The flags make me think I ain't seen nothing yet. And I'm not going to like it when I see it. It's for sure the dogs already don't like it. They haven't stopped barking all week.

Third item: Peri is in season and getting to know Hoo-Rah. They are in the "catch me if you can" stage and since Hoo is a puppy with his first girl friend, he hasn't yet figured out he is supposed to be the chaser and she is supposed to get caught. I hope he's a quick study!


---

The Big News June 9, 2014

I am tickled to death that there is a happy ending to having to neuter Sparky a few months back. First, he gets to be "just" a pet (although he doesn't know his breeding days are over... once a stud, always a stud!) Second, after an exhaustive... and exhausting... search, I am pleased to introduce his replacement, Mountain Summit Hoo-Rah, known as Hoo.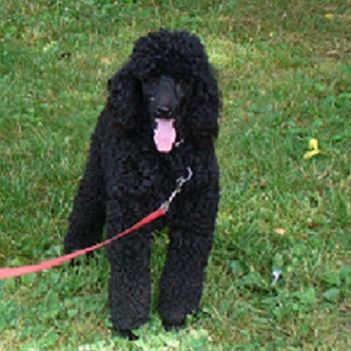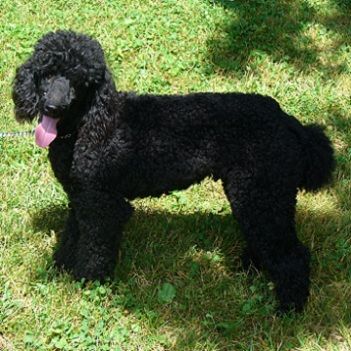 Hoo has his own page... either click on his picture on the website or go directly to
http://breeders411.com/mshoo.html

Have to tell you, this guy is drop dead georgeous! And he thinks everyone in the world wants to be his best friend. He particularly likes kids. For some reason, MEN seem drawn to him... since he's been here, and going places with me, I've heard several ladies say to the guys they were with who were busy talking to Hoo-Rah: "You don't even like Poodles!" The two 5 months old Whoodle guys (who are looking for homes...) think he's A-OK. Unfortunately, he's 6 months older than they are and he thinks THEY are just babies. On the other hand...

More big news
The girls of Mountain Summit are cycling and I'm not talking about bikes! Diamond and Emy are about half way through (and driving all the guys crazy) and Peri is thinking about getting with the program. As usual, she's bringing up the rear. I could make an awful pun about Hoo and rears, but I won't. But there should be some news to report in the next couple weeks. Or a month.


---

Maybe Next Year June 8, 2014

In 2015, the first born sons of both Zenyatta and Rachel Alexandra will be 3 year olds....

So JR finished the Belmont in a dead heat for fourth with Wicked Strong. As everyone knows by now, Tonalist won, followed by Commissioner, with Medal Count in third. Just 1-3/4 lengths separated fourth/fifth from first.

Ride on Curlin was eased and finished last. Word is he injured his palate and was bleeding.

And sometime before 8 PM, the word came that California Chrome had run his race hurt. Coming out of the starting gate, he either grabbed a quarter (his hind foot stepped on and sliced into his front foot) or he was stepped on by Matterhorn who was in gate 3. The pictures I saw look like it was Matterhorn, but it could be the angle of the shots.

Steve Coburn, JR's co-owner, was not polite in his post race remarks and will probably wake up wishing he had had time to calm down before Bob Costas came at him on national tv. However, he only said what a lot of people... myself included... think about these owners/trainers who do not run in the first two TC races or who skip the Preakness and then enter the Belmont. You have to understand, there is NO connection between the Derby, Preakness and Belmont. They are three tough INDIVIDUAL races. It's not like March Madness or baseball's play-offs before the World Series. But there is a reason the horses that are held out of the Derby and Preakness come into the Belmont as "spoilers." That reason is, of course, money. It's a big prize. But it is also the "thrill" of beating the number 1 colt of the year.

Tonalist and Commissioner had not run for a month, Medal Count, Wicked Strong and Samratt had not run since the Derby. Only JR, General A Rod (who finished 7th) and Curlin ran in all three races. It's just not fair.

And the fact that, once again, fresh horses spoiled the completion of a Triple Crown, lends fresh... no pun intended... creedence to the idea the races should be spread out (Derby 1st Saturday in May, Preakness 1st Saturday in June and Belmont 1st Saturday in July.) To me, that takes away the uniqueness of winning all three. It may even the playing field, but "everyone gets to play" is not my idea of real competition.

I read a couple "solutions" on line last night. One is to use a point system to qualify for each of the three races rather than just for the Derby. Another is to charge a MUCH larger entry fee for any horse not running in the Derby and the Preakness. No one is asking me, but both seem like good ideas.

Now, I had FIVE of the first seven in my full field prediction of the finish... just not in the order they finished.
In reality:
Tonalist - Commissioner - Medal Count - California Chrome - Wicked Strong - Samraat - General A Rod
In MY plan:
JR - Commanding Curve (9th) - Curlin (11th) - Tonalist - Wicked Strong - Samraat - General A Rod

Oh well.


---

My Dream Belmont June 6, 2014

BELMONT STAKES (June 7, 2014)
Horse (gate) running style (recent race results)

CALIFORNIA CHROME ( 2) pacesetter, stalker
COMMANDING CURVE ( 4) closer (2nd in Derby)
WICKED STRONG ( 9) closer (4th in Derby)
SAMRAAT ( 7) stalker (5th in the Derby)
MEDAL COUNT ( 1) closer (8th in Derby)
GENERAL A ROD (10) front runner, stalker (11th Derby, 4th Preakness)
RIDE ON CURLIN ( 5) stalker (19th in Derby, 2nd in Preakness)
MATUSZAK ( 6) closer (2nd in Frederico Tesio)
TONALIST (11) pacesetter, stalker (1st in Peter Pan on 5/10)
COMMISSIONER ( 8) closer (2nd in Peter Pan)
MATTERHORN ( 3) closer (4th in Peter Pan)

Here is how I see the race...
given decent breaks (from the gate) and good runs for everyone...

General A-Rod in front with JR, Tonalist, Samraat and Curlin grouped in the next two tiers The other six will be jockeying around for space.
Coming around the second turn, the herd will be lengthened out with Commanding Curve and Medal Cout making a move, followed by Wicked Strong.
A Rod will be tiring and falling back.
JR and Tonalist will be battling for the lead with Curlin right behind, then Samratt
JR will get away from Tonalist and Curlin will take up the battle, Samraat will lose third place to Comanding Curve.
JR will flatten out and keep some clear space between himself and Curlin who will be overtaken by Curve.
The finish: JR, Curve, Curlin and Tonalist.

Now considering how badly I blew the KY Oaks, I probably shouldn't put this in writing, at least not where everybody can see it. But I think California Chrome is the best of this year's 3 year olds, maybe the best of the last 5-6 years. He has the speed and can turn it off and on, he listens to Espinoza and he likes being in front at the end.

GO CHROME!


---

Then There were Two June 5, 2014

This morning, Critter, Squirrel, Lovebug and I got to spend a couple hours with a nice couple from the Empire State. Even though Squirrel was his absolute most charming... and Lovebug was his absolute most determined to not go anywhere but back home with me... Critter won the week's top prize of a Brand New Family. He is on his way to NY.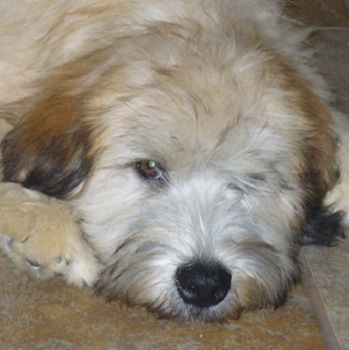 By the way, both Critter and Lovebug had a really bad day on Wednesday when they were forced to wear chains around their necks, take their first car rides and meet both the groomer and her crew AND the vet.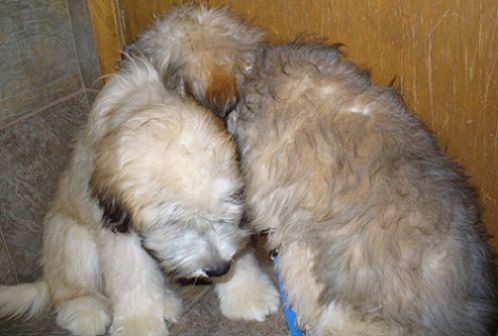 They went back home and practically snarled "Don't talk to me!" to Squirrel who had missed them while they were gone, then went to sleep for HOURS.

Which is what Squirrel and Lovebug have done all day (sleep) after their early morning trip.

I have to tell you, Squirrel is REALLY into people now that he has discovered them. And he likes going on trips. On the other hand, Lovebug seems to have the opinion that with people you see one, you've seen them all and he already has one to do his bidding. (He needs a little more time to mature....)

Tomorrow
I'm going to go into who's in and who's out for the Belmont, post positions, racing styles and how I see (in my dreams) the race unfolding.
PLEASE do not make ANY bets based on what I have to say!

Big things in the works here
Stay tuned.


---

FYI: Addison's Disease June 3, 2014

Recently, I was advised that one of my Cisco/Maggie pups was diagnosed with Addison's Disease. Although I was aware that Addison's was on the list of diseases in Poodles, considering the major problems with Wheatens are usually renal, I never thought about it with them. STANDARD Poodles and Wheaten Terriers are both on the list. For those of you who don't know, Cisco is a standard Poodle and Maggie is a SCWT who belong to my friend, Penny.

Addison's is difficult to diagnose because of the variety of symptoms and often goes undetected for a long time. Symptoms include vomiting, diarrhea, lack of appetite, hypoglycemia, lethargy, muscle weakness, tremors, pain in the hind quarters, low temperature, low heart rate and collapse. It is more prevalent in females than males and is usually diagnosed between 4 and 7 years of age, although it has been seen in puppies and seniors. It is relatively uncommon, occurring in one-third of one percent of 1000 dogs. The ACTH stimulation test is the only accurate test in canines.

After diagnosis and stabilization, treatment is usually a monthly corticosteroid shot and prednizone. At times of stress (illness, surgery, boarding, traveling, etc) the dosage may need to be increased temporarily. Cortisones cause increased thirst and urination. Fresh water must be available for dogs with Addison's.

The good news is the prognosis for Addisonal dogs is excellent.

A partial list of breeds that are susceptible to Addison's Disease include:
Bearded Collies, English and Welsh Springer Spaniels, German Shepherds, German Shorthaired Pointers, Great Danes, Newfoundlands, Portuguese Water Dogs, Rottweilers, St. Bernards, Soft Coated Wheaten Terriers, standard poodles, West Highland White Terriers

There IS a possible genetic involvement.
However, I find a couple things interesting about that idea. First, all Poodle sizes were bred down from the standard but every Addison's list specifically says standard and does not include klein/moyen, miniature or toy Poodles. Also, the SCWT is from the same root stock as a couple other terriers, like the Kerry Blue, but they are not on any lists that I found. And when I discussed Addison's with my vet, she said in over 30 years their clinic never had a incident of relatives having Addison's.


---
---
MAY 2014


Then There was 1 uh, 3 May 30, 2014

This morning I met with a lovely family from way up north in Michigan and we spent an hour while Raccoon and Squirrel argued about who was going home with them. Honestly, pups know when someone is headed out the door permanently. This time, one of them got fooled since he went through all the departure steps... vet visit one day, groomer's the next and car trip the 3rd... but still came home with me.

Raccoon proved to be the most charming and is about half way through the very long ride through Kentucky, Ohio and much of Michigan. This is him after the groomer finished yesterday.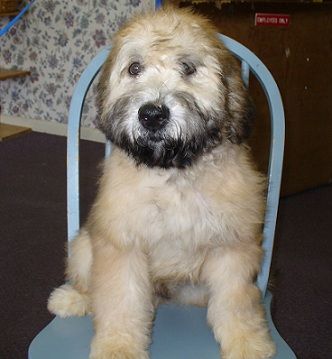 And this is Squirrel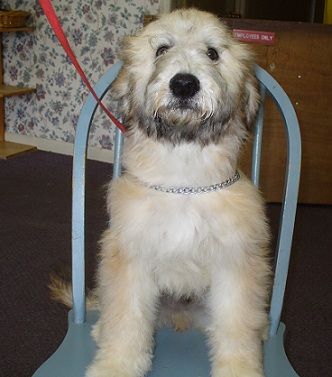 Although, because it rained again all afternoon, he doesn't look like this 24 hours later!

Also available... again
Critter and Lovebug are not moving to Canada. This is the third time in two litters that it has proven impossible to get a pup to our northern neighbors. Even if I was willing to ship, I can't ship from here into Canada because we do not have an USDA inspection point at our very small (as in one gate) airport. The last few times I've had a pup move out of the country, I've shipped to the closest-to-Canada US airport and the people have driven over the border to pick the pup up. However, both these families lived in the middle of Canada and that just didn't work out. It is difficult to ship from here to northern states in the middle of the US because of multiple connections, so it is not just shipping outside the country.

Judging by how fast 'Coon and Squirrel picked up the walking on lead business, Critter and Lovebug should be easy to train. It's just finding the time... and other than 90 degree weather... to do it.


---


Getting Big May 28, 2014

The four "little" boys still here are little in name only. At 18 weeks, they are:
Raccoon, 24 pounds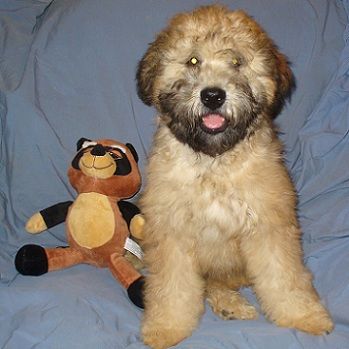 Squirrel, 21 pounds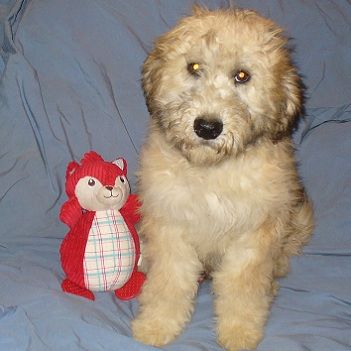 Critter, 23 pounds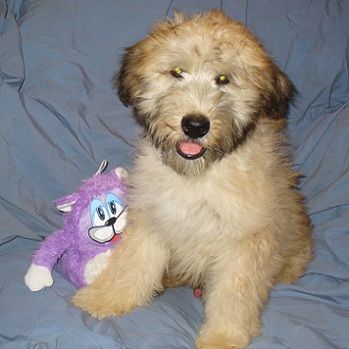 and Lovebug, 19 pounds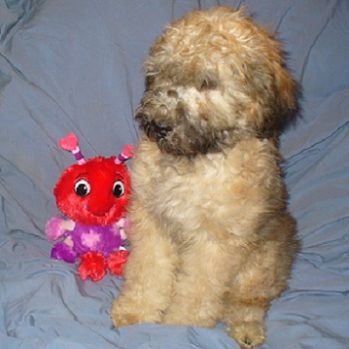 It looks like both Critter and Lovebug will be staying in the US... so they need to find new homes... since their Canadian families have yet to find a solution to the transportation problem.

Rehomes doing well
So far so good with the two dogs who needed new accommodations. Keep your fingers (toes and eyes) crossed, please!


---


Rehomes Revisited May 26, 2014

Busy weekend and an enjoyable one. Had a great visit with a lady from Georgia who came up for an introduction to one of the rehomes. She got a dog from me MANY years ago... before Whoodles... and the time was right to get another. So when she left, she took the female with her. So far, things are going well. So well in fact, I'm beginning to wonder if I really know anything about how dogs will act in situations other than what I've seen them in. Fingers crossed.
The younger one met a lady he liked... but she has children, older ones... teenagers... but they are still kids and a rough speaking, bearded guy he really took to who needs to think things over.... FIngers crossed there, too.


---

Well.... May 22, 2014

I have been working with two families in Canada who wanted Critter and Lovebug. One of them had a deposit on a pup from the litter before this, Clooney;s, and had to switch it because they couldn't get here to pick him up. It's beginning to look like there is never a good time or an easy way for people living in Canada's mid section to come to the US. It is a LONG trip; quite frankly, not one I would want to make... except, maybe, to pick up a puppy. The families live a good distance from each other but have been trying to work it out so one could make the trip and they'd share the expenses, but that is looking less and less likely to happen. So stay tuned, Critter and Lovebug could be looking for love. Again.

A couple pups wh are happy with their new situations are Bo and Sully, both of whom are in the rather large, extended Atlanta area.
This is Bo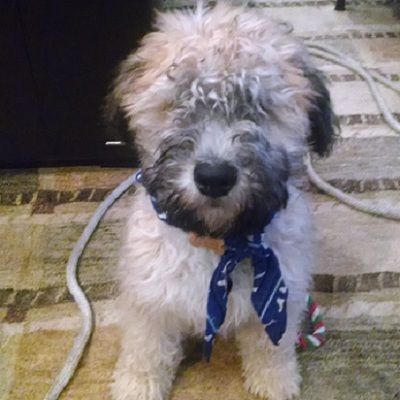 and this is Sully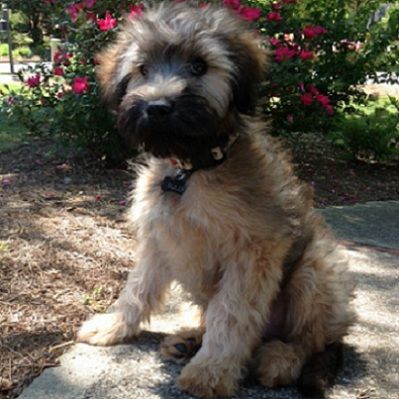 Their people report each of them LOVES his toys and here's Sully with his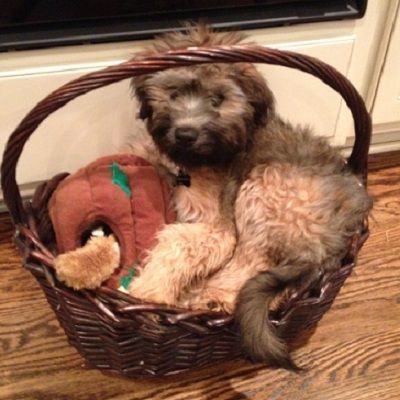 ---

Tired of Horses Yet? May 20, 2014

I wouldn't blame you if that's true. However, the description at the top of the page does say "Plus some other things." I've followed horses (of all kinds) since I was a little kid and it's too late to teach this old dog any new tricks. Feel free to skip this post if you are so inclined.

California Chrome left Old Hilltop in Maryland early this morning and shared a van with Ride on Curlin up to Belmont Park in NY. The trip took a little over 4 hours... they ran into congestion on the George Washington Bridge....

Other than that, the journey was uneventful... which seems to be JR's style.
Once there, the colt stepped out of his vehicle and did what he usually does... checked out his surroundings and posed for the photogs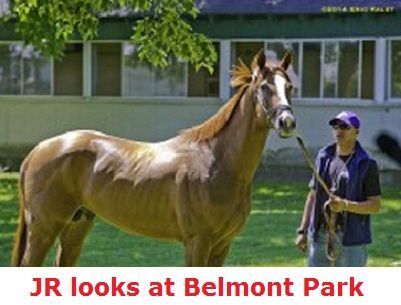 One colt has already been pulled from the Belmont Stakes field. Danza is not feeling or acting "right," so he is going to rest up and undergo some testing before running again.

For JR and the colts already in residence at Belmont, the next 18 days will be spent getting used to the track which is totally different that anything the colts have been on so far. With a circumference of one and a half miles, Belmont is THE largest horse track in the US. The turns are much larger (less sharp) than other tracks which tends to confuse the jocks more than the horses. The main track is nick named "Ol' Sandy" and the grandstand seats under 35,000 people. (Churchill Downs, where the grandstand is smaller, seats over 50,000.) Unlike the other two TC race courses (Downs and Pimlico,) fans are NOT allowed on the infield.

Tomorrow... or...?... back to the dogs!


---

JUNIOR! May 19, 2014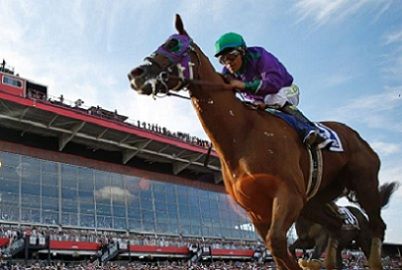 He came. He coughed. He conquered.
(Wish that was MY line, but it's not.)

And so much for MY handicapping skills... I got first, third and sixth right and everything else was garbage. My only disappointment was my gal Ria Antonia finishing last... hope she just wasn't up to it and nothing's wrong. And mine is nowhere near the disappointment Bob Baffert had with Bayernwho finished ninth.

One thing... for all those who think coming back in just two weeks is a bad thing... the three Derby horses finshed one-two-four and the only "fresh" horse to finish in the money was Social Inclusion.

The three Triple Crown racing powers... KY, MD and NY... are meeting to discuss changing the schedule, leaving the Derby the first Saturday in May, moving the Preakness to the first Saturday in June and the Belmont to the first Saturday in July. They say the current three-races-in-five-weeks schedule is too hard on the horses, but it is REALLY about money.

Expected in Belmont Stakes are Derby runner-up Commanding Curve, third-place finisher Danza, fourth-place finisher Wicked Strong and fifth-place finisher Samraat and 12th-place finisher Intense Holiday. From the Derby AND the Preakness, Ride on Curlin and from the Preakness, Social Inclusion and Kid Cruz.. Also, G2 Peter Pan Stakes winner Tonalist and runner-up Commissioner

Supposedly... EVERYBODY thinks Junior is the second most impressive three year old in the country. They think the BEST baby is the filly, Untappable. She's in Baffert's barn. Wonder if he'll push to put her in the Preakness.

To show you how fickle the Thoroughbred racing MEDIA is, they were claiming a field of 10 in the Preakness was a small field but now the talk is the large Belmont field of 11.

Immediately after the race, California Chrome's trainer said the colt might not go to the Belmont because of NY's arbitrary rule against nasal strips. Today, the NY Racing Commission announced they are dropping the rule as they have been advised the strips do not enhance a horse's performance and misuse of the strips will not endanger the horse. Did I mention a lot of these rules and schedule changes are about money? I rest my case.


---

Preakness on Saturday May 16, 2014

I'm hoping for a safe trip for all 10 horses. This is the second step to the Triple Crown, which hasn't been won in 36 years, since Affirmed in 1978. California Chrome is the ONLY horse still eligible to win this year. The Preakness, which is run at Pimlico in Baltimore, is 1-3/16 miles, the shortest race of the three. This year, only 3 colts who ran two weeks ago in the Derby... and one filly who ran in the Oaks the same weekend... have come back to race again.The other six colts are fresh.

By the way, JR and Ria Antonia are the only two grade 1 stakes winners in the field and she is second only to him in earnings.

Here's the way I see (read HOPE) the Preakness finishing:

CALIFORNIA CHROME gate 3 (needs a good break but likes having something to chase) last race: Derby, 5/3, finished 1st

RIA ANTONIA gate 6 (filly, as big as and as fast as the boys, but has attitude, 3rd trainer this year, Calvin Borel up) last race: Oaks, 5/2, finished 6th

SOCIAL INCLUSION gate 8 (speed horse with a 4th gear) last race: 4/5, finished 3rd


KID CRUZ gate 7 (stepping up in class) last race 4/19 at Pimlico, finished 1st


RIDE ON CURLIN gate10 (another new jockey) last race: Derby, 5/3, finished 7th
PABLO DEL MONTE gate 9 (speed horse, chose not to take the last Derby spot because of the outside gate) last race: 4/12
BAYERN gate 5 (speed horse, likes to be in front) last race: 4/26... finished 1st, DQd to 2nd
GENERAL A ROD gate 2 (speed horse, can be rated) last race: Derby, 5/3, finished 11th
RING WEEKEND gate 4 last race 4/5, finished 2nd
DYNAMIC IMPACT gate 1 (doesn't like being on the inside, very game) last race: 4/19, finished 1st

Would sure like to see this finsih for JR this Saturday and again at the Belmont, 6/7/14.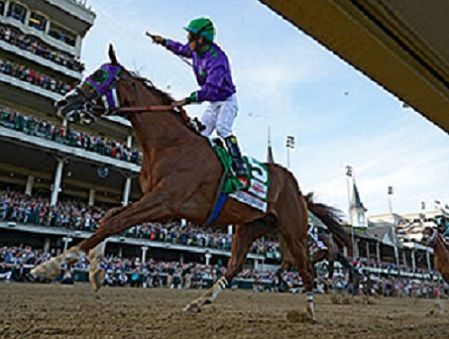 2014 Ky Derby


---

Happy Birthday Esther May 13, 2014

Two years ago today, Peri (and Sparky) had their first of two litters. This is the absolutely gorgeous result as she looks this morning.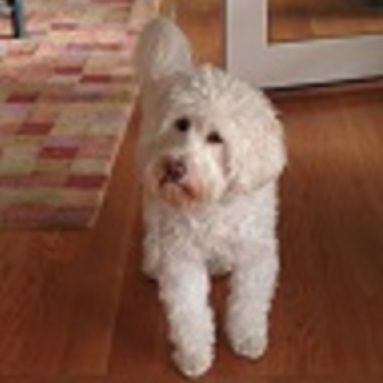 I wish I could repeat that breeding many, many times!


---

Behind the Times May 11, 2014

Thanks a lot! I just noticed the date on all of May's posts was 2004. All the things people email me about and no one could tell me the date was wrong?!

Nothing to report re pups still here
They are doing well and are actually the most obedient babies I've ever had, especially considering they are still a pack. I'm amazed t how much English they speak and how they know exactly which one I'm talking to when I sat "Hey you! Quit that!" It just shows they understand what is allowed and what is not and know when they are doing something they shouldn't be.

Possible young adult and older pup REHOMES
I am taking requests for placement of a young adult female and an older male pup who may be in need of new homes. This is going to be an extended qualification process because they each have specific special needs. The first and foremost qualification is
NO CHILDREN. PERIOD.
On the other hand, another dog already in the home is a plus.
Please email if you want more info.

NOT looking for a new home
is Emy and Boon's daughter, Gunny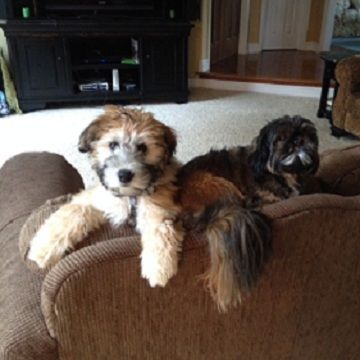 shown with her older "sister," Brownie, who is a sable or brindle Shih-Tzu.


---

They've Conquered the World May 6, 2014

The four pups have the entire yard for their playpen. They are actually quite good... maybe the best GROUP I've had. They've found all the shady places and pretty much stay outside... for hours... until I go out and chirp and hiss at them and they come running. And they're quiet when they're out there. The big dogs bark at the horses, but the pups, apparently, have not learned to look past their fence yet and haven't noticed the horses. On the other hand, late in the afternoon, when they wake up in the puppy pen (in the house) and want to go out, they'll sit and look at each other and bark. It starts off fairly soft, but then turns into a very loud barkfest until they hear me coming. When I hobble into the room, they're all sitting or lying there, looking at me like I just woke them up. Clowns.

Horse news
Everyone has survived the Derby with just some fairly minor cuts and bruises. Poor little Vicar's in Trouble probably had the worse trip. He started on the rail and got pushed around quite a bit and ended up with no place to run. Since he's the smallest of the bunch, he wasn't able to push through and finally just said "Forgetaboutit" and just followed everybody around the track. He finished a discouraged last. Everyone is hoping it won't have a permanent effect.

The Preakness is in 10 days. JR (California Chrome) is going, provided he snaps back from Saturday, but Commanding Curve, who was second, is skipping it and going straight to NY to prepare for the Belmont. The only other Derby colt who has indicated he might be in Baltimore is Ride On Curlin. His connections were not happy with the ride Calvin Borel gave him and will replace him the next time out. Bayern, who ran the week before the Derby, and my second favorite colt of the year, Social Inclusion, will both be in the Preakness AND my third favorite three year old, the filly, Ria Antonia, is also going to be there, with a new trainer... her third this year. I'm not sure it makes me happy to see my favorites... Jr, Social Inclusion and Ria... all show up right now. It will be great to see them all at the same time... but this is the second leg of the Triple Crown and I'd be happier with some lesser talented horses entered.


---

The New's Worn Off May 4, 2014

So today I opened the door to the deck and the pups ran, looked outside, tested the temperature... and began playing chase in the house. Talk about fickle. It really wasn't THAT warm outside, in the mid to high 70s. It's supposed to be a lot warmer later in the week.

Lion has moved out
and is now known as Sully. He weighed in at 13 pounds 14 ounces. This is his departure pix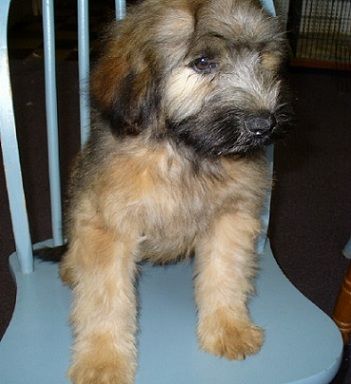 Gunny (Bunny) checked in
and she looks quite content with her new life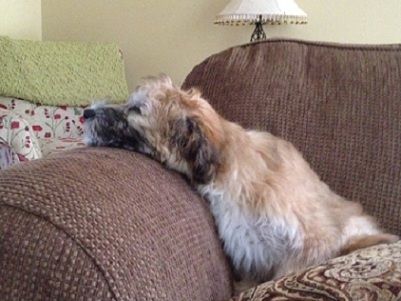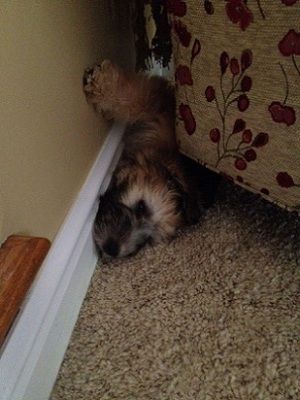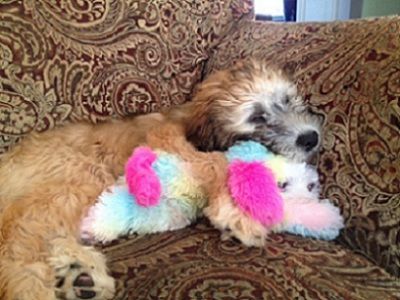 ---

CALIFORNIA CHROME May 3, 2014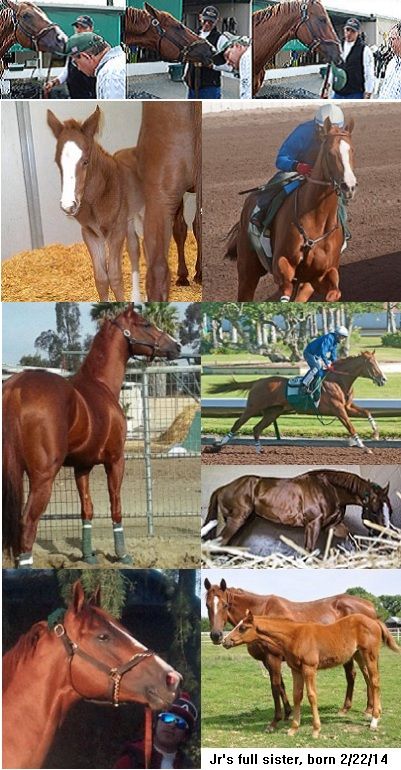 ---

Oh Well May 2, 2014

Yesterday, I listed the fillies I liked in today's Kentucky Oaks.
So much for MY Oaks preferences. This is the way it ended up:

Untappable by 4-1/2 lengths
My Miss Sophie 6 lengths ahead of
Unbridled Forever then
Rosalind
Thank You Marylou
Ria Antonia
Got Lucky
Sugar Shock
Aurelia's Belle
Please Explain
Fashion Plate
Kiss Moon

Empress of Midway flipped over in the gate and was scratched.

Untappable is trained by Steve Asmussen, the subject of the recent PETA expose, who also trains Tapiture entered in tomorrow's Derby. Wouldn't THAT be a kick in the pants.

Meanwhile, back in the oaks of Tennessee
The boys slept like the babies they are ALL night. They came in and collapsed about 7:30, woke up maybe 3-4 hours later for a light snack and drink of water, did a little unenthusiastic toy chewing and head wrestling, then went back to sleep. Deep DEEP sleep until about 8 this morning... which is a little earlier than they usually get up, but what can I say?

They started yelling at me this afternoon when Lion and I got back from the groomer and I eventually gave in and opened the gate to their pen. They raced outside and gathered at the top of the steps, whining because it looked so far down. Well, all of them whined except Lion, the smallest of the pack, who bounced down the steps like he had been doing it all his life. While he ran up and down, one by one I put the other four half way down and gave each a little nudge. Two of them jumped from that point, the other two dug their nails into the wood and yelled I was killing them... until their feet hit the ground and they were off chasing their brothers. About fifteen minutes later, two pups stuck their heads in the door and gave me the come-hither-I-need-help look. They, and a third pup, were back up on the deck, watching their two brothers running around in the yard. So, I pushed them down the steps again. After that, they were on their own. Every once in a while, I'd hear feet on the deck and somebody whimpering, then he'd get his courage up and make his way down the stairs. I'm pretty sure they've all got the idea now.

And it's almost 7 o'clock but five little puppies are stretched out in the pen, sleeping the sleep of the well exercised.


---

They'll Sleep Good Tonight May 1, 2014

We had a lot of rain this week, but today was bright and sunny sooo I closed all the gates to the dog yard and forced the pups down the steps of the deck... some of them wailing all the way.... to the ground and the puppy yard. It is the first time they've been on grass and gravel and the first time they've had room to really stretch out and run. To my surprise, as soon as a pup had all four feet on the ground, he took off as fast as he could go. These pups have a habit of charging at and leaping over each other... they look like a well rehearsed circus act... but they had more than enough room to just zoom around without colliding with each other. I watched them for about five minutes and then went back in the house. For once, they played quietly... no barking or growling at all. Imagine my surprise when, after about a half hour, I went out to check on them and found every one had managed to squeeze through the one gate that doesn't close tightly and were exploring... as a group... the dog yard. I thought I was going to have to call my son to come over and round them up... there's no way I could chase them down in that big an area... but one of my little rescues had followed me outside and she stood by the gate that is usually open to the big yard. All the pups came running up there to see her. So I opened that gate and then went through the gate they had, shutting it as tightly as I could behind me. When they saw me coming toward them, they all ran through, back into the puppy yard. I closed the gate and once again, they were trapped. The trick is to be smarter than the dog! And because they are good... and smart puppies... when they got tired and thirsty, each figured out how to get UP the steps by himself so I didn't have to go after them.

And they've been sleeping soundly ever since.

Pix of older pups
These two are Auggie (black) and Reilly (blond) 2-1/2 years old brothers from Maggie and Cisco. In the first picture, they are talking with a purebred SCWT they know from the neighborhood.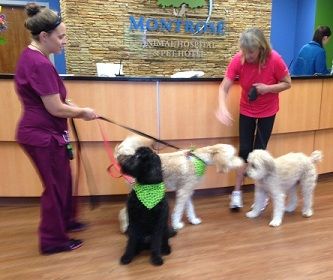 <

And for your information, their mom, Maggie, is a SCWT and their dad, Cisco, is an APRICOT standard Poodle. Color and gentics... such fun!

Friday is the Kentucky Oaks, the Derby for fillies
My picks for the first four spots at the END of the race, are (in no order)
Ria Antonia
Thank You Marylou
Sugar Shack
Empress of the Midway
I haven't followed the girls the way I have the colts, but at the beginning of the year, Ria Antonia was posting faster times at the same distance as the boys. She's had some growing up problems the last couple months but, for the first time, is going to be running in blinkers to keep her mind on the job to be done.


---