DECEMBER 2013


To Quote Roy Orbison Dec. 31, 2013

It's over, it's over, it's OH-ver!
Don't get me wrong. It hasn't been all that bad. But it's time to move on.

First, however, a few more pictures.
Two year old Millie from Maggie and Cisco


and Millie with her Poodle roommate



And closing out the year, the Di/Boon daughter, Montana,
Times Square or Bust!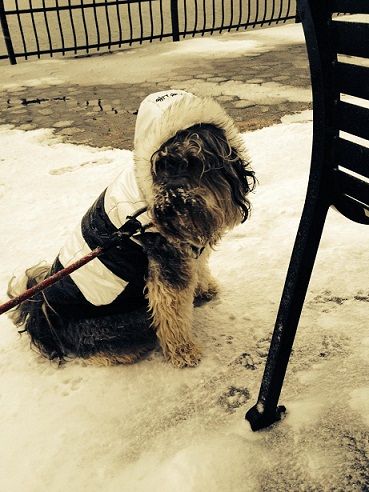 Wishing everyone ALL the best!


---

Pictures Dec. 30, 2013

The first is the last pup who has moved out, Aggie (previously Yellow Rabbit, NOW Maddie Mae, but she'll always be Aggie to me) with one of her new human family



and this is her new canine companion, Lucy (from Maggie and Alex) showing the pup one of her chores, unloading the dishwasher



Then there is this picture story of Cash Meza (from Emy and Boon's first litter,) caught in the act of getting into the presents BEFORE Christmas

And the bad thing is, the toy he chose out of all the ones available was the one for his girlfriend who lives down the street.


---

Christmas Updates Dec. 26, 2013

As usual this time of the year, I've received a number of cards and emails with news about "old" puppies and their families. Sometimes I get the reports NOT from the family itself but from someone who has visited them over the holidays. I appreciate hearing from everyone. It is good to know so many people have been positively affected by the addition of a pet in their homes or the homes of friends or relatives. Thanks to all you took the time to get in touch.

These are Belle and Bailey, the sisters from Emy and Boon's first litter who were lucky enough to get a home together.



And just to show how much colors change, these are the girls and their 7 siblings when they were a week old

---
Merry Christmas!
---

All Alone Dec. 23, 2013

PinkO is by herself any time her mama takes time off from babysitting... which isn't very often. Honestly, you'd think PinkO was 4 WEEKS instead of 4 months, the way Clooney acts. It is really delightful watching the bond she has with all her babies.




Christmas photos and updates coming in.
This is Nelson, son of Maggie and Alex, celebrating his first birthday AND his first Christmas with his family.


Nelson is possibly the largest Whoodle puppy I've had. He weighs in at 60 pounds!


---

Another One Going Dec. 21, 2013

Aggie Mae (Yellow Rabbit) is ready to go. She's just waiting for her ride (which will be here early Monday.) She went to the groomer today.


And like EVERY pup in this litter, on the way down the drive, she pooped in the car. Six for six. But, unlike the other five, she also got carsick. Now this is the third trip she's taken and last time, we were out quite a while without her tummy objecting. Guess she figured if I didn't take the poop hint, she'd have to clue me in some other way.


---

Playtime Dec. 20, 2013

I love watching Clooney outside with the two pups. It fascinates me that she is both playmate and playground supervisor and never overpowering in either role. Usually Peri is out there with them, and Boon much of the time. Peri plays with the pups and she is usually a lot rougher with them. She chases them down, runs over top of them, knocks them over... often sends them for several somersaults and an occasional flip. Clooney never steps in, but she watches. Boon has begun running with the group, sort of discarding his serious-man-of-the-house attitude for brief, but more frequent periods. He and Peri are the exact same age, him older by about 3 weeks, but that's just time. I wonder if Peri's more... juvenile... attitude is because of the weeks she was lost and alone, like, maybe, she is happy that is no longer the case. Dogs aren't supposed to think that way, but Peri is different now than she was when she disappeared.

The pups have today to play outside with mom and friends, and maybe early tomorrow morning. But rain is supposed to arrive tomorrow afternoon and stick around Sunday. And Aggie is moving to Georgia Monday. It is going to be interesting to see how PinkO and Clooney handle her departure. I know I'm going to miss her.


---

Emy is... Dec. 19, 2013

Back from her vet appointment for her ultrasound.




And the results show the two little ones pictured. Since she usually has at least six (and had 11 once) and the pups that showed up to have their first photos taken are VERY small, it is possible there are more. It has been a year and a half since she was pregnant and she is probably taking things slowly.

By the way, by very small, I mean the pups' current size is about that of the circumference of lead in a pencil.


---

A Cold 50! Dec. 17, 2013

I'm already wintered out. Although our temps are supposedly in the mid 40s to 50s, it is
C O L D. We haven't had any of the bad weather most of the country has had... all that snow and sleet and ice. All we've had is way more rain than we need (since we're already 15 inches over our usual) and lots and lots and lots of cloud cover. This year we're making the Pacific NW look like sunny Bahamas. This from someone who lived in Oregon's Willamette Valley for 12 years. Our weatherguys are saying we could get up to the low 60s over the weekend. Which would be great except they're also saying it's going to rain.

Sparky's recovery
is going great. He has acted like nothing ever happened to him and is really enjoying his soft (canned) diet with orange-flavored fiber added. I sure hope he got up the gumption when he was feeling poorly to breed Peri. Have to wait and see.

Emy's ultrasound
is scheduled for Thursday. Fingers crossed!


---

Home Again Dec. 13, 2013

Sparky is back home and acting like nothing happened while he was gone. He does have some pretty ugly bruises from the surgery to repair his inguinal hernia... which I'm told is normal... but other than that, no indication that he spent a long time on the operating table. His mouth is a little sore which makes giving him his antibiotic twice a day a problem, but his teeth look great! He's enjoying his soft diet of canned food with some Metamucil twice a day and has pretty much turned up his nose at kibble, although the amount of canned food he's getting will have him hungry by tomorrow. The idea is to keep his stool soft, but formed, for the next few weeks until the rectal repair has time to heal. I'm sure he's going to be disappointed once he realizes that is over and done with and he's back to dry.

Yellow Rabbit
Since Aggie (Yel Rabbit) is moving out just before Christmas and my vet left on vacation today, I took the pup in for her departure exam yesterday. She weighs a little over 12 pounds and got a good review from Jane. I put the pup in one of the small harnesses I have which displeased her no end. She refused to move with it on and spent a lot of time trying to remove it. But, by the time we got back home (several hours later,) she walked nicely on the lead and then ran up and down the stairs until I got the door open and she could hurry in to tell her mom about how she'd been mistreated. Oh, and on the way TO the vet, we had just made it to the blacktop road when the smell from the back seat told me she was indeed a member of this litter. Only Pink Orang has not been in the car yet... she's going in next week for her rabies shot and I'm sure I'll have a mess from her to clean up. Good thing I have lots of newspapers!

Going to try getting some pictures of her, and probably Yel Rabbit, over the weekend.

Grayson's picture
My daughter, Grayson's GRANDmother... so hard to get my head around!... sent me some new pix. This is him chatting with Princess, the old Schnauzer, who is finally adjusting to the interloper in HER territory.

---

Sparky Update Dec. 10, 2013

Bill, the vet, made a concerted effort to get to Sparky's surgery today even though his schedule was more than full already. He got lucky with a cancellation and another operation that proved less time consuming than he originally thought. So, with a little time on his hands before the end of the day, he started on Sparky. And like they say, no good deed goes unpunished. The rectal hernia was a mess, the muscles in shreds, requiring a lot of care piecing back together. But during that, Bill found a large inguinal hernia as well. Which he took the time to fix. After that, he did the unwanted but necessary, neutering. Then, as he was "closing," Jane came in and said Sparky's teeth could REALLY use a cleaning.... Jane called me late afternoon to report Sparky was awake and alert and doing well, something she wasn't sure she could say about her husband. Let's just say, if he didn't need a vacation before, Bill definitely needs one now. Spark's bloodwork and other test results were excellent, so that is off my mind. I'm going to leave him (Sparky, not Bill) until Thursday morning when I have to be over there anyway for Yellow Rabbit's departure exam.

And about teeth cleaning... having it done by the vet requires the dog being anesthetized and that is trickier with animals than it is with people, and it is no simple matter with people. I do not do it UNLESS the dog has to be out for another reason.

And yes, Yellow Rabbit is moving.
She'll be living with a great family in Atlanta AND occasionally get to see some other Tennessee Whoodles.

On the other hand
I STILL have a female pup available. The difficulties in getting Pink Orang to Saskatchewan Canada have proven insurmountable at this time, so she needs a new home. Her coat is already JUST like her mom's was at the same age... black on top and silver all the way to the skin... so I think she will be silver gray just like Clooney, but probably straighter. She's a delightful pup, equal parts mischief, humor and affection.


---

All is NOT Well Dec. 9, 2013

Poor Sparkey is at the vet tonight, awaiting a spot on the surgical schedule. He is my mini Poodle stud dog and the sire of any number of gorgeous, smart, sweet natured pups of many different make-ups. A couple weeks ago, I noticed he was having some trouble pooping (yes, here we go again... another poop story!) and when I took him into the groomer, I asked that they express (drain) his anal glands. My rule is do NOT touch anal glands ever period because many years ago, when I first got into small breeds, my vet told me if you don't start messing with them, the dogs generally don't have any problem and since that time I've never had a small breed dog with that issue. Medium and large breed dogs don't seem to have any problems. For some reason, groomers all seem to think anal glands of small breeds have to be expressed at every grooming. So anyway, I asked them to express Sparky's when he was groomed. Which didn't really seem to help... or hurt... the situation. Since I have the only vet appointment available until after Christmas, for a departure exam, I decided I'd take Sparky with me on Thursday. BUT today he started swelling up in a dramatic way mid morning, below and all around his tail, I called to see if the crew thought I could get him in to see Jane as a walk in this afternoon. And we finally saw her just before 5. She took one look and said it was NOT his anal glands and she suspected it was a rectal hernia. Which is what it is. And it is bad news for him and me and anyone who does not yet have a Sparky puppy. The recommendation is that the dog be neutered when the hernia is repaired because it is testosterone fueled. Jane said she had never seen one in a female dog. She also said they are difficult to repair and often reoccur for a number of reasons which I won't go into. Not only that, but Spark has lost a little weight and was NOT particularly excited about Peri being in season... never a good sign with a breeding male... which means the hernia may be incidental to something else going on. So he's having some blood work and a couple tests done before the surgery. It could turn out to be nothing and the hernia could be repaired and could stay that way for many many more years and the worse thing could be him having to be neutered. Or it could be really bad news. I'm in wait and see mode. And a bad mood.


---

Supermom Dec. 4, 2013

Clooney has done it again. Actually she did it about a week ago and I'm just getting around to posting it. After the first four pups left to face their futures, Clooney moved back into the puppy pen. Now, this is pretty unusual since they are 3-1/2 months old, totally weaned and obviously (since four have already moved out and are doing well) capable of living without her supervision. Supervision may not be needed, but the pups want... and seem to need... her support. In fact, last night, Clooney was still visiting with Boon in the "dog room," where she had spent most of the afternoon and evening, and I was in the bedroom watching something on tv, Bones reruns I think... Tuesdays are NOT a good tv night... when one of the pups started howling. And I mean H O W L I N G. It was not the usual everyone-chime-in-and-please-stay-in-tune howl the dogs all participate in once or twie a day. This was a heartbroken I've-been-deserted-my-mom-doesn't-love-me-any-more-I'd-eat-some-worms-if-there-were-any-worms-around weeping and wailing howl. Which made me grin but didn't make me get out of bed to put Clooney back with the pups until later when I was going to anyway.

But what I wanted to tell you about is the change in the pen's interior configuration which Clooney brought about as soon as she moved in. The potty area HAD been in the back. A spot about 4 feet long by 2 feet wide which all the pups used faithfully. It is the only place I've been putting newspaper down... except the pups all like to run and slide on the fresh newspaper, so some gets moved around to other areas. BUT Clooney has always liked to sleep in that corner and she has convinced the pups the OTHER end of the pen, near the gate, is where the bathroom should be. And THAT is where I put the newspaper now. There was, apparently, no argument. It just happened.

When I get moved to Indiana (don't hold your breath,) I'm going to put Clooney in charge of any workmen who have to make things suitable for us.

Animal Cruelty in the Balkans
WARNING. Not suitable for kids or those with weak stomachs.

A couple days ago, I saw an article and several pictures on yahoo about homeless dogs in Romania being attacked and maimed by people (or what passes for people there.) I have not been able to forget it. The pictures are too horrific to post where kids can come across them, so I have set up a seperate page with the story and photos. Today, it occurs to me that the pictures are a testament to the good will dogs show humans even when they have been brutalized.

You can see the story at http:/breeders411.com/maimed.html
But be prepared


---

Rock Stars Dec. 3, 2013

At the end of November I posted a picture of Peri and Sparky's gorgeous daughter, Esther. A few months before that, I posted some pictures of their son, Bob, who made the cover of Hottest Hounds of Birmingham, along with his roommate, Lula. And now I have the photo of their other son, Bear, who just won Dog of the Month for November 2013.




Did I mention Peri and Sparky are getting together again... soon?


---

Outside Dec. 1, 2013

For the first time in what seems like months, we have a day that is dry, sunny and above freezing. The perfect time to introduce Clooney's two remaining pups to the great outdoors. As the pictures show, they loved it! Not only did they adjust super-quick to being on dirt/grass/gravel for the first time, they taught themselves to go up, then back down, then up the stairs to the deck. Down was a little more cautiously than up. Boon was outside with them although he wasn't WITH them, if you know what I mean. Their mom, on the other hand, was incredible, as usual. She went very slowly at first, leading them and making sure both followed closely like they were 5-6 weeks old instead of 14. Then she picked up the pace, but was always aware of where they were and went back for one if she got a little behind. She kept them in the run by the house for maybe 15 minutes before leading them into the big yard. It wasn't long before all three were romping and playing just like they do in the house and then the pups started doing some tentative exploring away from Mom. I sat outside keeping an eye on them for about an hour. Then I spent another half hour trying to convince Clooney it was time for them to come in. (Boon had enough after 20 minutes or so and went in to enjoy the big chair all by himself.) Finally, Cloo came in and I managed to catch her and put her in the pen. Aggie (Yellow Rabbit) stuck her nose inside a few minutes later and when she heard me fill up the food bowl, decided she had had enough exercise for the day. But PinkO (Pink Orang) showed a very strong independent streak and stayed on the ground, eventually wandering back into the big yard (about a quarter to a third acre.) She walked the fence line, pausing often for a good sniff, criss-crossed the yard several times, exploring holes she came across where the dogs had scared the heck out of a few gofers and groundhogs and completely ignored me every time I told her it was time to come in. I have never seen a youngster enjoy her first outing so much BY HERSELF. After about another 30-40 minutes, I hobbled out and carefully made my way across the yard toward the back fence. She was unsure of who I was, probably because of the way I was moving (even though she seemed to recognise my voice,) and kept a lot of distance between us, but I managed to herd her back through the gate and when I got close, she went up the stairs, into the house. Now all three are curled up, snoring. Okay, they're NOT snoring, but they are sound asleep.




And here is where the two girls got separated, PinkO in the run looking at Aggie in the yard




I've probably created monsters for myself! Everyone pray for rain!


---
NOVEMBER 2013


'Tis the Season Nov. 30, 2013

Peri and Sparky's oldest (and only) daughter, Esther, wishes everyone Happy Holidays

---

My Favorite Holiday Nov. 28, 2013


HAPPY THANKSGIVING!
---

More Updates Nov. 26, 2013

The internet got less busy around here after midnight last night (this morning, I guess) so I managed to download some large photos. These are Sully, Cloo and Boon's black male... the first is with his new best bud, a SCWT named Animal.


And this is Sully relaxing in his new home.



It sounds like the pups are adjusting to their new situations.

While around here
the stress level has dropped dramatically. On Saturday, when I put Clooney in with her two daughters, she inspected each from nose to tail, including checking out rear ends and the bottom of eight paws... which was a difficult thing to do with them jumping around, climbing on her and tryng to suckle (which she permitted.) Some people might think this is unusual behavior for 13 weeks old pups, but I see it all the time. My mama dogs do not seem to forget their pups, even when they are years old, as evidened by the differences in the way Diamond acts with her daughters, Emerald and Peridot, and how she is with Clooney who is unrelated.

Cloo and the pups played for hours. When one of the girls got tired, she took a nap while Mom kept herself entertained with the other one. During the night, the lights-out-everyone-sleeps rule was temporarily suspended because I heard the three of them in the puppy pen every time I woke up. And then they slept ALL day Sunday. And I mean all day. Sunday evening they were back to playing... no more suckling... and things were quiet during the night. Yesterday, Clooney spent most of the day in with Boon since he is living by himself while Emy and Diamond finish out their heat cycles. The pups were fine with just the two of them in the puppy pen in the other room and did some rough housing with Mom when she came back and spent the night with them last night. Doing the same thing today, so everybody seems happy again.


---

Updates Nov. 25, 2013

I've gotten some advisories about how the first four are doing in their new homes and a few pictures. (Unfortunately, I'm on dial-up and some of the pictures are a million kilobites or more and it takes a number of tries before I can download them without my computer freezing up.) Here is Roswell, the red male, who moved to GA on Saturday



The two girls still here are reunited with their mom, which has helped to settle everybody's nerves. More about the reunion next time.

Emy and Boon
Em is now relegated to the bedroom so things will calm down some in the house at night. She and Boon were canoodling a lot more than necessary... which kept everyone awake. And as luck would have it, I got pictures of an Em/Boon pup from 2011 and one from 2012.
From 2011, this is Finn, keeping his eye peeled for anything threatening



and from 2012, Cash playing cards with one of his humans



Yea! More Emy/Boon pups on the way!


---

Two More Out the Door Nov. 22, 2013

The red male and Green Orang are leaving tomorrow. The boy is flying to GA and the girl is being picked up and held for the trip home to NJ. They did fine at the groomer and the vet (one pooped on the way out, the other on the way home, but things are getting better and better!) After being cooped up in a crate, for the first time, for 3 hours while they got their make overs, the pups were ready to play when I put them down on the floor in the vet's examining room.


As you can see, no matter where, getting their attention is not easy
Then, there are the pix taken as soon as they come out of the grooming room, before they have recognised me,

Red guy:


He weighed 14 pounds.

and Green O


She is 12 pounds 3 ounces.

These pups... those that are already with their new familes and those still here... are not taking this change in their lives easily. They are definitely aware that things are totally different and are missing their siblings (the two that have left) and aware that some of the litter has disappeared (the ones here.) Last night the four remaining camped out at my feet when I let them out to play. They were all very subdued. And they didn't eat. I found a brim full bowl this morning. Poor Clooney has searched this house from stem to stern looking for the pups who have left. Tomorrow, when I get back from the airport, I'm going to put Clooney in the puppy pen with Pink O and Yellow Rabbit, hoping they'll be happier and more settled.

Emy has been bred to Boon!
Ultrasound on Dec. 19th.


---

Next... Nov. 20, 2013
Blue Rabbit went in for her make over this morning. Of course, she pooped as soon as the car started moving BUT she did not do it again when I picked her up for the trip home. Like Sully yesterday, she was more comfortable with a stranger touching her when I handed her to the groomer than she had been with my vet. And like Sully when he got home from his ordeal, she came back in the house, said hello... or maybe hey... to everyone and went to sleep. She got up a little while ago, had lunch and is now napping. This is how she looks with her new 'do, and she smells yummy!


She weighs 14 pounds 12 ounces.


---

And They're Off Nov. 19, 2013

Two pups went to the vet yesterday. One saw the groomer this morning and met his new family this afternoon. This is Sully after his wash and blow dry:


He weighed in at 11 pounds 3 ounces at the vet.

Now, so far, the pups have shown a LOT of stress every time they've been in the car. Stress which is apparent by both sight and smell... in the form of poop. EVERY time they are in the car. Two times two (going and coming home) yesterday and three times for Sully today. Usually if one pup reacts a certain way, they all will, but they will outgrow it as they get used to whatever it is. It just shows that this particular litter has been relatively stress free up till now.

On the other hand, they did pretty well with the idea that I am not the only two legged dog in the world.
You win some, you lose some.


---

Anyone Want Two Dogs? Nov. 18, 2013

Found this story on yahoo this morning.
Brothers Jeffrey and Jermaine have a special relationship. The 8-month-old Labrador Retriever and Pit Bull mixed breed dogs were found on the streets of Philadelphia last month, and are still in search of a new home together.

Jeffrey is blind, and Jermaine is always by his side to help him. "Jeffrey really does try to maintain contact with Jermaine, especially when he's in an unfamiliar environment," said Ray Little of Operation Ava, a rescue group that took the pair in.

"It's amazing how they try to maintain contact with each other." After sharing this picture of the duo snuggling while they sleep, the shelter was inundated with phone calls and emails from all over asking about adopting them. Little says it would be best for potential adopters to come to the shelter to meet the dogs, and they'll consider those with complete applications



.
http://shine.yahoo.com/pets/blind-dog-brother-home-143700874.html


They sure look like they'd make great pets for some family.


---

No News is Good News Nov. 17, 2013

Still have one little girl available... Yellow Rabbit... and four, count them, one-two-three-four pups are leaving this week. Don't know when the Canadian-bound girl is going to her new home (some transportation problems there.) BUT, even if she leaves right away, Yellow Rabbit won't be alone for long BECAUSE

EMY IS IN SEASON!
She is in with Boon and I've seen them cuddling already.
As luck would have it, I just got a photo of two Emy pups... now 5 years (Zoe, the parti) and 3 years (Murphy, the black and silver)


Too bad they don't like each other.


---

Down to One Nov. 11, 2013
Green Orang, the smaller of the two red girls, is moving to NJ after Thanksgiving. That leaves just Yellow Rabbit, the smallest pup in the litter, the only one unspoken for. Don't have a pick up/delivery date as yet for Pink Orang, the other black female, so Yel Rab will have company for a while. As will I.

New dog with my family in Indiana
My granddaughter (Gray's mom,) who got out of the Navy about a year ago, has finally gotten her PTSD trained service dog. She is a 2 year old, spayed Lab/Shepherd mix named Lila. My daughter... and I guess the rest of the family... was amazed that Lila immediately knew she belonged to my granddaughter. She is friendly with the everyone, but has real interest in only one person. She hasn't wandered far from her side since they met.

A number of my Whoodle pups are service and therapy dogs. So far, none that has gone through those training programs has had any problem. Dogs are wonderful critters!


---

New Pix of the Six Nov. 8, 2013

There are some new shots on the puppy page and here are a couple more for your viewing pleasure!

Green Orang


Pink Orang


Red Male


---

Oh, the Inhumanity! Nov. 5, 2013

When you're a puppy, life is full of problems. A couple days ago, there was having to choose between several equally attractive toys to play with and now, it's the discrepency between the deck and the ground and learning to negotiate steps.



and friends and relatives aren't much help!

---

First Outing! Nov. 4, 2013

Nice day... some sun, temps in the 60s, no wind to speak of and since there hasn't been a heavy rain for a while, the yard is dry. Perfect day for taking the Six outside for the first time.

EXCEPT
the new neighbors... across the road, with the three horses... have two dogs. And while hotwire is great for keeping in horses, it does nothing to keep in dogs, especially small ones. So, being dogs, those two come to visit every time my dogs are outside. Which makes my dogs bark as long as they are out. And, since I don't know the dogs... where they've been, where they visit regularly, IF they've had their shots... I don't want them around the pups. Not even sniffing noses through the fence.

So, the Six were relegated to the deck. Which they absolutely LOVED! They played in the leaves and ran in and out of the house for over an hour before the temp, going down with the sun, made me call them inside. To my surprise, they came in willingly. Then crashed around my feet in the computer room. I woke them up, one at a time, to give them their Albon and put them back in the pen. And they are still sleeping, almost two hours later.

Pix...



And here is one of the blacks whose coat is getting lighter

---

Fall Back Nov. 3, 2013

Welcome to standard time. It always takes me a few m inutes to figure out what time it is because some of my timekeepers change automatically and some do not. I changed the one in the car a couple days ago. My cell phone and the computer changed by themsleves. The landline phones did not. The only time I have a clock plugged in is in the bedroom when I HAVE to be up at a certain time in the morning, which happens rarely in the great scheme of things... coming up in a couple weeks when pups have to be at the airport. Until then, I get up when the pups make me! (The dogs know better.)

Weights
FINALLY! Got the scale out and weighed everyone (under the age of 3 months.) Didn't need a machine to tell me the three reds are still bigger than the three blacks, but here's the run down:
Largest in the litter is Blue Rabbit at 11-3/4 pounds.
Smallest is Yellow Rabbit, 6-1/2 pounds.
Quite a big difference! But you couldn't tell it by behavior. Everyone plays with everyone else with the same energy and determination.
In between the Rabbits are
Red male --- 10-1/2 pounds
Green Orang --- 10 pounds
Black male --- 9-1/2 pounds
Pink Orang --- 7 pounds

One of the reasons I needed to get accurate weights is the move from the bedroom to the other side of the house... the stress finally got to puppy digestive systems and stool quality (here we go again!) deteriorated rapidly. I wanted to start them on Albon to get them back on track and dosage is based on weight. If they were adults, I'd give it a couple days to see if they could/would get control without help, but young pups are a different situation. Thankfully, they like the taste of the medicine which means I don't have to chase them down to give it to them.

Snapped a couple pix of Blue Rabbit making the biggest deision of her life so far...


Other pix on the website.
Another set of individual pictures to come in the next day or two.


---

New Neighbors Nov. 2, 2013

The place sort of across the road from me has been for sale for almost 2 years. It is mostly flat 5 acres, 3-1/2 to 4 cleared, the bordering acre plus in heavy woods. It has a new double wide and a number of outbuildings and its own unrutted drive starting not far off the paved road. The price, in MY opinion, was really fair... $110,000. About two weeks ago, the realtor signs were taken down and some people showed up and started working around the property. Now, I couldn't figure out what they were doing since it seemed to me there wasn't anything to do, but every day two or three pick-ups were there and 4-5 people were using chainsaws... yeah, first there is logging and heavy equipment on top of the ridge and now chainsaws toward the bottom. Then there was a lot of clanging. Now if you've ever lived in the country and heard people putting in metal fenceposts, you'll know the exact sound I'm talking about. I'm a big believer in fencing. It keeps things in and more importantly, keeps other things OUT, so I didn't mind the clanging. BUT, when I drove out my drive and got a view of where the fenceposts were going, it didn't make much sense.They were not around the entire property or even around a "yard" near the trailer. Early this week, hotwire was strung along the posts and the next day, three horses moved in. I LOVE horses! These three make five who are living on my road... the first two moved in at the beginning of the month on the property that is at the very bottom of the hill. The only time I see them is when I go into town and then only if they are in the main yard. But the newcomers are at the bottom of my drive... I have to be going out (or coming in) to see them, but I do see them from time to time. AND they are talking with the two further down the hill. And a big plus, to my point of view, is that... so far... no one has moved into the doublewide. People have been there every day, for most of the day, taking care of the horses, but they are not staying past dark. Maybe my deer have decided there is too much activity around here and moved elsewhere, but it's nice to have the horses in their place.

Speaking of moving... The pups are now in the tv/computer room. So far, I haven't let them out of their pen to roam around that end of the house. The pen is really big... and I have to make sure all the electric cords and everything else I don't want chewed on are out of reach... maybe I'll get that done this afternoon.

Clooney is back to living with Boon and Diamond and sometimes Peri. She occasionally runs toward the pups' room, but always just peeks in at them. I took her to the groomer and got ALL that thick heavy coat taken off. It was well matted from the pups rooting and nesting in it so it was a good thing I wanted it removed since they wouldn't have been able to save much anyway. But the funny thing is when she came home and went in to see the babies they swarmed her like always. Didn't blink an eye at her new look, didn't turn up their noses at her new smell. The ADULT dogs, on the other hand, always act like I've let in a monster whenever one of them gets groomed... they bark en masse and almost attack. Like youngsters everywhere, regardless of species, the pups recognised mom as mom, period.


---